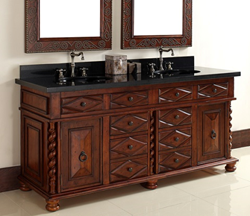 Especially in bathrooms with a lot of intricate tile work, the woodwork on the vanity should reflect the geometry of the mosaic tile.
(PRWEB) January 30, 2014
HomeThangs.com – the Online Home Improvement Store has made their goal to deliver the right product to the consumer. With that in mind, shopping and home design tips, as well as special product selections are being introduced.
Mediterranean style bathroom vanities have a distinctive, slightly exotic style. Antique vanities inspired by French and British designs are more commonly available, but are markedly different in style from their southern neighbors. HomeThangs.com has introduced a guide to this elegant style, as well as a few features to look for.
Victorian style bathroom vanities are practically defined by their floral and scalloped seashell detailing, and many French-inspired antique pieces use similar vines and flowers to accentuate their woodwork. But in a Mediterranean style bathroom, woodwork is bigger, bolder, and oftentimes more abstract, with a more assertive, masculine appearance.
Bold starbursts, and lots of intricate, and geometric detailing are more at home in a Mediterranean style bathroom than subtle florals. Especially in bathrooms with a lot of intricate tile work, the woodwork on the vanity should reflect the geometry of the mosaic tile. Both Moroccan and Turkish inspired bathrooms make use of colorful, starburst patterned tile called zillij, and a bathroom vanity that mimics the pattern can really help ground the design.
Moroccan bathrooms also make extensive use of wooden latticework called jali screens. These can be carved with broad geometric shapes or smaller, more delicate and lace-like detailing, and are used to create screens between spaces, cover windows, or simply decorate the walls or ceiling. Mediterranean bathroom vanities with similar woodwork can be used to supplement or substitute these elaborately carved wood screens.
Bathroom vanities with very detailed inlaid woodwork work well in a Mediterranean style bathroom, too. These are different from vanities with traditional veneers – even patterned veneers – in that they use different types of wood (or differently finished wood) inlaid in small pieces to create a more intricate image. Once again, these nicely echo the beautiful mosaic tile work that's so closely associated with a Mediterranean style, and have a beautiful, hand-made antique quality that fits well with a slightly more glamorous Mediterranean style bathroom.
That said, many Mediterranean bathrooms tend to emphasize natural building materials, like soft, sandy travertine or even adobe walls. These have a sun-drenched, earthy quality to them that reflects the lush coastal environment of the region. And while many Mediterranean bathrooms have a very posh, sophisticated look, others emphasize a simpler, more old fashioned style that hearkens back to ancient, stone-hewn architecture. For this type of bathroom, look for a much more rustic bathroom vanity made of weathered wood with a distinctive, natural grain.
Finally, while many northern European inspired antiques put a lot of emphasis on intricate metal door and drawer pulls, for a Mediterranean style bathroom, aim for a bathroom vanity that uses wood hardware instead. Again, this is part of emphasizing the more rugged, rustic look of the Mediterranean style, but carved wood pulls (or even simple wooden knobs) also have a nice feel to them that underscores the very tactile element of this type of bathroom.
To see more of this gorgeous Mediterranean style, check out more vanities from James Martin, or read the full article here.
HomeThangs.com is not only a home improvement superstore, it also provides expert design tips and a comprehensive shopping guide, taking the ideas from professional interior designers, and offering tips to the consumers on how to pick the products to best suit their needs.