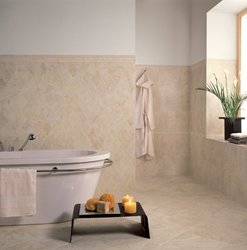 Unlike many other bathroom styles, it isn't uncommon to find Mediterranean bathroom that are covered from floor to ceiling in colorful hand-laid mosaic tile.
(PRWEB) January 21, 2014
HomeThangs.com – the Online Home Improvement Store has it made their goal to deliver the right product to the consumer. With that in mind, shopping and home design tips, as well as special product selections are being introduced.
Mediterranean style bathrooms offer a more traditional twist on the popular spa style bathroom. Inspired by the iconic public baths of Rome and Turkey and unique architecture of the Mediterranean region, these bathrooms are classic, vibrantly colorful, and just a little bit exotic. HomeThangs.com has introduced a guide to a few important components of this distinctive style.
Color
If there's one key element of Mediterranean style bathrooms it's the use of bold, assertive colors. Burnt terracotta reds, brassy oranges, and bright, primary blues command the decor on a backdrop of earthy neutrals, immediately evoking the traditional architecture and design of the Mediterranean coast. To a great extent, the type and amount of color used will determine how sophisticated or casual the space is, as well as what country's style the decor most resembles. Moroccan, Spanish, and Turkish styles tend to be more colorful, while a more classic Romanesque bathroom will generally stick closer to warm neutrals and more subdued tones.
Tile
Tile of all kinds features prominently in Mediterranean style bathrooms, but the size, style, and material of the tile have a huge impact on the final appearance of the bathroom. Terracotta tile is quite common, creating a nice earthy, vibrantly colorful base that pairs well with blue mosaic tile or white adobe walls, while fine stone tile, particularly marble or travertine, give a Mediterranean style bathroom a more posh, elegant look. Mosaic tiles are common on every surface – a Mediterranean bathroom can easily be covered entirely in intricately laid mosaic tiles.
Mosaic
In fact, the use of mosaic tiles is another hallmark of Mediterranean style, especially Moroccan style zellige style mosaic tile. This type of mosaic is made of small chips of enameled terracotta set, traditionally, in plaster to form an incredibly colorful, intricate piece of artwork. Blues and whites feature prominently in these mosaics, which can be as little as a small accent in the floor or on a wall or large enough to cover practically the entire bathroom.
Arches
Arches are a common architectural feature in Mediterranean bathrooms, from basic horseshoe curves to more intricate pointed, peaked, or shaped arches at the tops of windows, doors, and passageways like the entrance to the shower. Unfortunately, installing true arches (and finding doors or windows to fit them if needed) can be a tad tricky, not to mention expensive. But these features can easily be emulated without major construction by installing mirrors or mosaic tiles with strong, prominent arches.
Luxury
Mediterranean style bathrooms are typically associated with luxurious getaways – sprawling spaces with dazzling blue seaside views. They offer a more relaxed, sensual atmosphere than the rigid, aristocratic opulence of more-familiar French and British inspired designs. And it's no wonder: some of the world's most famous and luxurious baths hail from the Mediterranean region. Roman baths and hammams are both traditionally public spaces, but including a beautifully tiled steam shower and deep soaking tub makes it possible to recreate some of the ancient medicinal spa treatments of the Mediterranean region in the privacy of the home.
Light
Finally, the Mediterranean region is famed for its light, offering some of the most stunning sunsets and golden afternoons of anywhere in the world, which means it's incredibly important to pay attention to the lighting in a Mediterranean style bathroom. Of course, big windows with a coastal view are ideal, but in a typical home, focus on quantity, layering task lights and ambient lights so no corner is left in shadows. The space above a large bathtub should be reserved for an especially attractive lighting fixture (rather than recessed lighting) as it will be very visible to anyone bathing.
To see some beautiful Mediterranean bathrooms, check out the full article here.
HomeThangs.com is not only a home improvement superstore, it also provides expert design tips and a comprehensive shopping guide, taking the ideas from professional interior designers, and offering tips to the consumers on how to pick the products to best suit their needs.