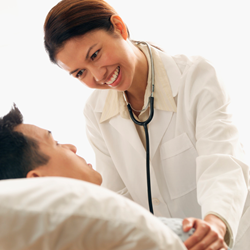 When I can see my patients on my time and get paid more why would I work for less money and more stress?
Chicago, IL (PRWEB) June 24, 2014
The new onslaught of the ACO "Accountable Care Organization" hitting the healthcare scene has been taking the approach of "join or die." Maybe that last quote was a bit dramatic but if physicians decide to stand alone, the "organization" gives them the strong arm with extra processing fees. When the ACO was first introduced, the intentions were good but with less and less groups joining, they were forced to push the process along. The three main issues with this business model are, doctors are very private with their data, and physicians don't want a dictated schedule and the distribution of payment. Medorizon has helped this process along by following up with the ACO on behalf of the physician and reviewing payments to national fee analyzers. "We want to make sure that our clients receive a positive outcome when they join the ACO," Keith Tobin, VP of Sales and Marketing.
When groups or doctors stand alone and separate from hospitals, they have the freedom to determine their schedules and the patients to be seen. "When I joined the ACO I was forced to work a schedule that I was not accustomed to and saw a whole new demographic of patients" family practice physician, Chicago IL. "Once the other physicians dropped out of the ACO I was working longer hours and had obligations not in my original contract." One of the main reason physician's break their contract is because they are being asked to do more for less reimbursement. Not only are they getting paid less, they also have no data or receivables that can be a profitable resource.
Studies show the main reason the ACO model is failing is because the distribution of payment is not agreed upon. Take for example an ACL repair, you have a few providers involved in patient care. General practitioner, orthopedic surgeon, anesthesiologist and hospital or facility. When the treatment is complete you have the issue of how much should everyone receive? The orthopedic specialist's wants top dollar for the main procedure but the general practitioner spent the most time with the patient. "When I can see my patients on my time and get paid more why would I work for less money and more stress," Orthopedic surgeon, Chicago IL.
Before you join an ACO or medical group, let Medorizon look at your data and see what options you may have. Medorizon has grown to a 60-employee organization, reaching sales several million dollars annually. Their staff manages the billing and collection process for hundreds of providers throughout the United States. They can help with everything from contracting to appeals as well as everything in-between and can help increase your revenue as much as 30% in 90days.