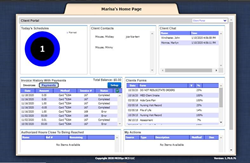 "Our strategic partnership with NPC enables our customers to provide easy access to make secure payments whether it be for Private Pay and/or copays for Long Term Insurance, Medicare, and Medicaid services. Home Care patients and their families can access their account information and make payments
PERRYSBURG, Ohio (PRWEB) December 11, 2020
Ohio based MEDsys Software Solutions, the leading provider of Software and Electronic Visit Verification solutions for the Home Care industry, today announced expanding their existing partnership with National Payment Corp (NPC), the leading payment processing company providing innovative technology, competitive rates and state of the art security.
MEDsys and NPC have been working together for four years and are expanding our suite of offerings to include real time Credit Card and ACH payment processing to the home care industry. MEDsys Software and EVV solutions are utilized by over 1,000 home care agencies across North America. MEDsys and NPC will now focus on accelerating adoption for home care agencies who do not utilize any form of payment processing today.
"Our strategic partnership with NPC enables our customers to provide easy access to make secure payments whether it be for Private Pay and/or copays for Long Term Insurance, Medicare, and Medicaid services. Home Care patients and their families can access their account information and make payments in real time through the MEDsys Family Suite" explains Ritch Adams, CEO of MEDsys.
Payment Processing acceptance in Home Care is poised for significant growth. With the rapid use of Mobility in Home Care, the increased demand for access to real time information, and the demand for cashless payments MEDsys and NPC are already seeing a spike in the volume of customers utilizing payment processing.
Nate Christian, ESVP of NPC Operations adds "The Merchant Service industry has evolved quickly in the past few years and a heavy emphasis has been placed on utilizing modern technology to facilitate card processing. We have seen a progression from a simple credit card terminal, to the use of smart phones to authorize payments. Further yet, connection to specialized software such as MEDsys using APIs. We are now delivering merchants sensitive data with their transactions, from skew level data to reporting, giving merchants' recommendations on the best time to run promotions to drive new business to their establishment".
About MEDsys Software Solutions
Developed by industry experts with over a century's worth of experience owning and operating large home care agencies. MEDsys Software Solutions is the complete technology solution for the Home Care Industry including Franchises, Home Care agencies, State Medicaid Programs and Managed Care Organizations. Our software solution streamlines business operations, increases, and measures the quality of care being delivered and in turn drives profitability. The MEDsys Electronic Visit Verification Solution is the leading time and attendance product supporting Franchises, Home Care Agencies along with State and MCO Medicaid Programs. We offer powerful tools to automate and manage workflow. MEDsys is 100% web based with the state-of-the-art technology, offering convenient, real-time data exchange. The MEDsys solutions are fully Mobile, device agnostic and provides real time communication connectivity including family and staff portals, broadcast, and instant messaging. MEDsys Software and EVV solutions support Medicare, Medicaid, Skilled and non-skilled Private Duty, Pediatrics and Adult Nursing. MEDsys is the top choice for Franchises, Home Care Agencies, State Medicaid Programs and Managed Care Organizations, as we offer one software solution that can manage all business lines. Our unique heritage has empowered our software to be personalized for the unique needs of any Franchise, Home Care agency, State and MCO programs.
About National Payment Corporation
National Payment Corporation, NPC is an Ohio based Payment Processing Company and Technology Provider. As a Registered ISO with MasterCard and Visa, we have been helping businesses streamline their payment acceptance processes since 1990. NPC enables our client's to securely facilitate a payment in any way they want to; in-store, over the phone, online, through mobile devices and integrated software solutions. NPC delivers advanced solutions to simplify accepting payments.
NPC processes transactions with PaySafe, utilizing the TSYS network and First Data, a global leader in payments and financial technology, serving millions of merchants and businesses in more than 100 countries. This combined solution provides the personalized support our clients trust with the stability of internationally recognized back ends. Our pure focus is the merchants we are partnered with, providing a PCI Compliant secure processing environment, and developing a strong, sustained client relationship. PCI Compliance is like HIPPA in that we help our merchants maintain a safe and secure processing environment designed to protect sensitive cardholder data.
NPC delivers best in class Merchant Accounts utilizing top technology allowing lightning fast authorizations as well as our attention to you. We answer our phones within three rings during business hours ensuring your questions and needs are met immediately.