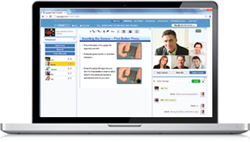 By integrating into existing workflows, Saypage is seen as part of the customer's service, affording patients the re-assurance they seek.
London, UK (PRWEB UK) 29 January 2014
By offering a live element to their existing online training programme, medical device distributors are more easily able to ascertain that device usage is properly understood, whilst at the same time allowing users the opportunity to have their queries dealt with in real-time. Additionally, costs usually associated with hiring bricks and mortar venues for training purposes are either reduced or eliminated completely.
Sessions are pre-booked and carried out in groups of up to a pre-set number of participants and a qualified trainer. At the end of a session, both trainers and patients can be directed to the another web site to confirm attendance. By integrating into existing workflows, Saypage is seen as part of the customer's service, affording patients the re-assurance they seek.
Built on the award winning Saypage in-browser video conferencing platform, the service has been made available to the UK's National Health Service and Virgin Care who are already using the platform to offer patients more convenience than ever before, whilst at the same time driving efficiencies in terms of time and cost savings. Conducted in a fully HIPPA compliant way, discussions are under way with a number of US-based companies interested in using the platform for both training purposes and medical consultations.
A front-runner in WebRTC and Flash in-browser video technology, with Requestec, Saypage's creator, having just been awarded Best All Around solution at a recent video conferencing expo in Santa Clara, online training rooms leverage Saypage's unique interoperability between WebRTC, Flash and SIP to enable online training to all users regardless of the browser they are using. Access to meeting rooms from iOS and Android devices is scheduled to roll out in Q1 2014.
The first roll out of the service has been provided as an "on-premise" solution and is horizontally scalable allowing for easy expansion. "Whilst the original intention was for Saypage to be integrated as a Cloud offering, we see a lot of companies insist on self-hosting and are happy to go down either route," says head of business development, Marek Zwiefka-Sibley. Working with Los Angeles-based, Envision Group as system integrator, the service is currently in beta testing and scheduled to go live in February 2014.
About Saypage
Saypage is a Communications and Collaboration Platform that enables organisations to rapidly deploy branded, fully customised live communication portals with integrated billing, reporting, recording and scheduling. With expertise in high-definition video conferencing and feature-rich collaboration, Saypage services can be accessed seamlessly on smartphones, tablets and in web browsers without the need for additional downloads or plugins. Saypage was created by Requestec in 2010 and is headquartered in London, England. The company provides 24/7 global support and service.