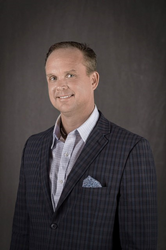 "Matt's expertise and alignment with our values and mission will further enhance our delivery of exceptional care and service while maintaining our commitment to Leading Specialty Healthcare for Pets."
WORTHINGTON, Ohio (PRWEB) February 04, 2019
MedVet is pleased to announce that Matt Erick will join the organization as President, effective today.
Erick's most recent role was President, North America for Mylan Pharmaceuticals. In his new role at MedVet, he will report directly to Dr. Eric Schertel, CEO of MedVet and work in close partnership with Dr. Linda Lehmkuhl, Chief Medical Officer.
"We are very excited to welcome Matt to the MedVet family. Leveraging his tremendous experience leading large healthcare-related organizations, we look forward to Matt's leadership of our key support services, including Operations, Finance, IT, and Experience/Marketing, as we expand our capabilities to support our continued growth," said Schertel. "Matt's expertise and alignment with our values and mission will further enhance our delivery of exceptional care and service while maintaining our commitment to Leading Specialty Healthcare for Pets."
Prior to his role at Mylan Pharmaceuticals North America, Erick was Senior Vice President at Cardinal Health, where he was responsible for ensuring hospitals, alternate care settings, and retail pharmacies had the products they needed, at the right time. Matt also held roles of increasing scope and complexity at the National Association of Chain Drug Stores and Drug Emporium retail pharmacy. He holds a BS in Pharmacy from Ohio State and a BA in Biology from Capital University.
"MedVet's dynamic veterinary organization, people, teamwork, culture, and exciting outlook for the future make this an exceptional opportunity," said Erick. "I look forward to joining MedVet's leadership team and working with Eric, Linda, and the entire MedVet team to bring value to the organization and contribute to its future success in providing Leading Specialty Healthcare for Pets."
MedVet currently operates a network of 22 medical centers in Alabama, Idaho, Indiana, Illinois, Kentucky, Louisiana, Michigan, Ohio, Pennsylvania, Texas, and Utah, and is committed to delivering the highest quality, most compassionate specialty and emergency veterinary care available in the nation.
About MedVet:
Veterinarian-led and owned since 1988, MedVet is a growing nationwide network of hospitals delivering exceptional care and preserving the integrity of the profession. Over 2000 team members working in 22 hospitals throughout the Midwest, Gulf Coast, Texas, and Mountain regions, are helping to advance our mission of Leading Specialty Healthcare for Pets. Through this effort, we help and serve over 200,000 pets and their families, and more than 7500 Referral Partners, each year. For more information, visit medvet.com.
Media Inquiries:
For photos and/or interviews, please contact:
Carmin Gade, Chief Experience Officer
MedVet
614.505.7576
carmin.gade@medvet.com