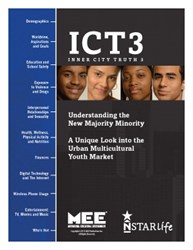 Understanding America's emerging majority--youth of color--is key to our nation thriving as a global leader. We hope to spawn a national exchange of ideas and solutions.
Philadelphia, PA (PRWEB) December 05, 2013
A national survey of more than 1,700 African American and Hispanic teens and young adults finds that the lives of today's millennials of color are more complex than many assume. A focus of the survey was identifying (and finding solutions to) health, educational and related social disparities that raise challenges for urban youth of color achieving their innate potential. The Inner City Truth 3 (ICT3) survey was administered in-person over a five-month period in mid-2013. It delves into health, education and the worldview and aspirations of young people (ages 16-20) in five American metro areas: Atlanta, Philadelphia, Chicago, Los Angeles/Long Beach and Oakland/Richmond (CA).
ICT3 is the latest in a series of incisive research projects created by MEE (Motivational Educational Entertainment) Productions Inc., a communications firm that reaches and influences hard-to-reach audiences. ICT was also administered in 2002 and 2008, providing a long-term view of how the interests and needs of urban youth have evolved over more than a decade.
"If we really want to be effective in changing the life outcomes of today's youth of color, we have to understand their dreams, worldview, motivations and culture," said MEE President Ivan Juzang. We need to know why they do they things they do and what struggles they face day-to-day, so that we can reach them in a way that shows we have paid attention to and acknowledged their realities." Juzang says that these youth remain America's youngest trendsetters, not just in music and fashion, but also in media consumption and social behaviors that often eventually end up in the mainstream.
Key findings include:

Urban youth of color (UYC) value education as the door to future success; they are enrolled in school and plan to continue beyond high school.
UYC believe both in themselves and a higher power to make things happen.
UYC are intensely connected to digital technology via the Internet and smartphones; it even replaces face-to-face time as a favored way to keep in touch with friends.
Despite media portrayals that may have one believe otherwise, and despite living in high-risk environments (stressors) where they have been exposed to significant amounts of violence, the vast majority of African American males have not been perpetrators of violence.
Sexual abuse and assaults may be all-too-common experiences for African American girls and women.
Among the sub-groups, Latina females were overwhelmingly the least satisfied with their bodies and were the most likely to report being bullied.
UYC still have goals of marriage someday and believe that pregnancies should be planned.
Programs and brands can connect with UYC by reflecting belief in self and supporting their dreams of success.
Along with these findings, ICT3 provides insights into the range of elements that impact and influence today's youth:

Worldview – How youth of color see themselves in the world and interact with it;
Education – expectations and perception of quality of K-12 education, challenges to achievement, post-secondary aspirations;
Lifestyle profile – stressors, spirituality and more;
Intimate Relationships – views on relationships, sexuality, contraceptives and sources of information;
Usage and preferences across the full spectrum of media channels, including social media and online choices;
Money matters – financial literacy, saving for college and other goals, spending habits;
Definitions of family, community, friends and intimate partners;
Gender differences in achievement and behavior patterns among youth of color; and
Goals, values, fears, morality and aspirations of today's youth of color.
Survey sponsors included The California Endowment, The Advancement Project, The United Negro College Fund and The National Campaign to Prevent Teen and Unplanned Pregnancy (NCPTUP). "Once again, MEE gives us insights into a group of young people whose views are critical, but are either misunderstood or absent from larger national conversations about the issues that affect their lives," said Marisa Nightingale, Senior Media Advisor at NCPTUP. "The ICT3 survey findings make it clear that urban youth of color have goals and aspirations that are quite similar to those held by youth from other backgrounds. This clear look into the lives of urban youth of color will inform and inspire those who are working to improve the lives of all young people for years to come."
The project included an expert advisory panel made up of a dozen esteemed thinkers and doers across various fields and industries. The panel helped fine-tune the ICT3 research design, survey questions/content, data analysis and will support research dissemination in communities across the country.
About MEE
MEE Productions Inc. (http://www.meeproductions.com) is an internationally recognized research, communications and advertising firm that develops research-based, market-driven solutions for issues facing urban and low-income populations living in at-risk environments. Headquartered in Philadelphia, the firm has satellite offices in Atlanta and Los Angeles. MEE's proprietary research methodologies, award-winning media productions and innovative social marketing meet the changing yet urgent needs of underserved, low-income and urban populations around the world.
Visit us on Facebook for more information about ICT3 and other MEE projects.