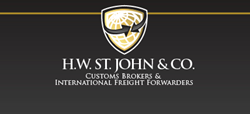 Meet the team at H.W. St. John & Company
Valley Stream, NY (PRWEB) December 17, 2013
With so few licensed custom brokers in the nation, the very fact that H.W. St. John & Co. has two such qualified individuals on their team is not to be taken lightly. What is even more astounding is that owner, Richard Hanel, is the second generation of licensed custom brokers, within the family-owned and operated business, preceded by his father. Daughter, Kristin Hanel, who is also duly licensed, studied International Business, graduating from Johnson & Whales in 2005 with a degree in Operations Management. This motivated young woman has not only carried on what has seemingly become an ambitious family tradition, but in the future, will likely carry the H.W. St. John & Co. torch, too.
Importing and exporting is a complex and detailed business, which is why having two licensed customs brokers within a company, is no small feat. Richard Hanel and Kristin Hanel, bring an exclusive level of expertise to the company, in addition to a dozen other dedicated and knowledgeable employees. Their licenses, alone, offer greater credentials, skill, and education, in comparison to like-competitors. However, it is the combination of 100 year old company, their expertise, and the generations of family blood - values, principals, and methodologies – that has H.W. St. John & Co. reaching new heights, building an even stronger reputation for themselves, and most of all, providing clients with the highest quality service.
H.W. St. John & Co. is unquestionably a true diamond-in-the-rough. This local-Long Island business is already recognized as a leader, in the world of customs brokers and freight forwarders due to its unparalleled industry experience and infallible reputation, amongst customers and partners alike. Yet, there is a unique quality which has this small, intimate company from filling very big shoes. H.W. St. John's team of experts includes two licensed brokers, a distinguishable trait, placing them at the forefront of competition.
The Department of Homeland Security and United States Customs and Border Protection regulate all imports and exports that occur within the United States of America. Overseen and controlled by these government agencies, customs brokers such as an H.W. St. John & Co. serve to aid importers and exporters in the processes and ensuring all Federal laws and requirements are adhered to. As a liaison and third-party between independent importers/exporters and the Federal Government, customs brokers must meet and fulfill strict guidelines and requirements as well.
All customs brokers, be they individuals, partnerships, companies, or associations must have a broker's license, dependent upon at least one licensed individual or associate. The process of becoming a licensed broker is an intense and lengthy one, which includes successfully completing a rigorous course, passing a grueling exam, and undergoing a thorough background check by the federal government. The process and requirements are so stringent that there are only 11,000 licensed custom brokers within the United States. For more information please check out their blog http://www.hwstjohn.com/blog.