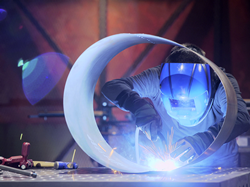 While welding has been an ancillary part of other reality shows, Metal Shop Masters puts our skilled trade and craftspeople into the limelight and will expose millions of viewers to the cool things you can do with metal as a career and creative outlet. - Gary Konarska, CEO, American Welding Society
MIAMI (PRWEB) September 08, 2021
With the premiere of the Metal Shop Masters series on Netflix on September 10, welding and cutting will become the focus of mainstream entertainment programming, and the American Welding Society (AWS) is proud to support the series. Hosted by award-winning comedian Jo Koy, the elimination-style show features seven competitors who face off in a series of six metal fabrication challenges. Inside a 10-hour time limit, five men and two women will create everything from robots to road warriors to art. The last person standing will earn the title of Metal Shop Master and a $50,000 grand prize.
To judge the competition, the show's producers tapped AWS's own Stephanie Hoffman, Program Manager of Workforce Development at AWS (who is also a metal artist and former pipe welder and welding instructor) and David Madero, a Mexican-American metal sculpting artist who is world-renowned for such creations a 120-ft. tall Monumental Christ.
Hoffman (@underground_metal_works) and Madero (@madero_co) have avid Instagram fan bases, and AWS has coordinated a Meet & Greet event with the judges at FABTECH 2021 on Wednesday, September 15 at 11 a.m. The event will be held by the AWS Careers in Welding Mobile Exhibit, Booth B20084 (located in the North Building of Chicago's McCormick Place).
"While welding has been an ancillary part of other reality shows, Metal Shop Masters puts our skilled trade and craftspeople into the limelight like never before," says Gary Konarska, Executive Director and CEO, American Welding Society. "Metal Shop Masters will connect with millions of viewers, exposing them to all the cool things you can do with metal as a career, hobby, passion and creative outlet."
What We Know About the Show
The details of Metal Shop Masters remain a closely guarded secret until the premier, when all six episodes will be available at once for binge watching. None of the contestants have been officially identified, although several can be identified from the official trailer because of their Instagram popularity. The Meet & Greet with Hoffman and Madero will be one of the first public appears for both judges in a setting where they can talk freely about the experience.
"Most of the competitors weren't professionally trained welders," says Hoffman. "You'll see self-trained welders, some with CNC backgrounds, and others who weld for cathartic reasons. There's a great mixture of art and fabrication-based projects, not to mention Jo Koy is a megastar comedian. People will enjoy it for so many reasons. One aspect that appealed to me is that the show allows fans to see all the contestants' very real struggles from start to finish. Real-life isn't like Instagram, and every episode of Metal Shop Masters showcases some epic welding triumphs, failures and battles of seven very talented artists."
Hoffman started welding in high school and found early employment in pipe welding. After joining the army and completing her service, she went back to welding and pursued a degree in education. Teaching and mentoring young welding students was hugely rewarding and led to an opportunity to elevate both her passion for welding and welding instruction with the American Welding Society.
"I've done a lot of heavy construction-type welding and fabrication and I've been a welding educator," says Hoffman. "It's also the first time that a woman has been the content expert on a global show like this. I'm proud to represent the industry on the professional side, and I just happen to be a woman."
Madero is a world-famous metal sculptor, furniture designer and owner of Madero/Co. Welding since he was 5 years old, Madero's most notable work includes a 500-ft. monumental steel 'Serpentina' for Albuquerque International Airport and an epic 'Eagle & Serpent' (Mexican coat of arms) installed in front of official residence of the President of Mexico.