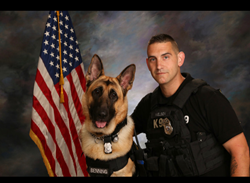 LEBANON, N.J. (PRWEB) September 09, 2019
The K Street Group has a team of employees that help make it the successful company it is today. Being a fully licensed, bonded, and insured private security and investigations firm, with headquarters located in Hunterdon County, requires a loyal and professional staff, to take the company where it needs to go. Take a moment to meet some of the employees, furry as well!
Justin Nielsen – Director of K-9 Operations
Justin Nielsen has been a part of K Street Group for 8 years, and has served on various assignments including armed protection, personal protection details, as well as K-9 operations. His current assignment is with the Special Operations Division where he serves as the Director of K-9 Operations.
Joining the team with years of experience, Justin's background includes, law enforcement, EMS, firefighting, and the Military. He has 27 months of infantry combat experience in the US Army and achieved the rank of Staff Sergeant. Justin has also served in multiple units to include 3 years leading a Recon Team in the 10th Mountain Division.
Justin is currently a member of his departments Emergency Services Unit, as a lead SWAT operator. He is also the owner of Cover K-9 Training LLC, a dog trainer, and typically trains with 6 to 12 dogs at any time, of any and all breeds.
Certified to teach Crisis Intervention, Firearms and tactics, Active Shooter Response, Emergency Medical Response, unarmed/armed self-defense and actively practices Taekwondo, Justin is qualified to handle any assignment.
Detective Benning
Meet the detective who the other pups get to look up to! Benning is a thriving one-year old German Shepherd. He is certified in explosives detection and tracking, and attended Anderson K-9 Academy with his partner Justin. Benning and Justin graduated with special recognition as a high-performance team.
Justin and Benning, the best of friends, are one of the top of the line teams at the K Street Group. You can find them at local events or check them out on The K Street Group social media pages.
The K Street Group delivers customized security and risk mitigation services for public and private sector corporations, groups and individuals. Its experienced subject-matter experts deliver effective solutions and customized professional services for any situation, anywhere in the world. For more information contact Robert Aromando, Chief Operations Officer at baromando(at)kstreetassociates(dot)org or 908-200-7344 and visit http://www.kstreetgroupsecurity.com
Follow us out on Facebook and Instagram! @kstreetgroupsecurity