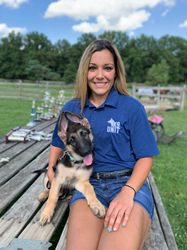 LEBANON, N.J. (PRWEB) October 11, 2019
The K Street Group has a team of employees that help make it the successful company it is today. Being a fully licensed, bonded, and insured private security and investigations firm, with headquarters located in Hunterdon County, requires a loyal and professional staff, to take the company where it needs to go. Take a moment to meet some of the employees, furry as well!
Officer Theresa DaSilva
Theresa graduated from Rutgers University with a bachelor's degree in Criminal Justice. She is currently a police officer for Lebanon Township, has been an officer for the last 5 years, and she dually serves as her departments Humane Law Enforcement Officer. Animals have always been her passion and has been an Animal Control Officer for the last 8 years.
Theresa lives on a horse farm in Long Valley and also has a four year old Border Collie named Maisy. Aside from animals and training dogs as her passion, she really enjoys spending time outdoors doing activities such as mountain biking, trail walks, and even training for a duathlon. Most of all, she loves to throw BBQs and dinners for her very close friends and family.
Detective K9 Natalie
Natalie was born on June 4, 2019, and is now 4 months old. Between the time Theresa picked up Natalie and welcomed her home on August 1st, she has trained her the commands of "sit", "down", "wait", "speak", "watch me", "come", and "wait" followed by "come." She has already visited many towns in Hunterdon County, several parks and trails, and she has been to the city of Hoboken! Natalie lives alongside with many different farm animals and her best friend in the house is a friend's dog, named Wendy.
Natalie was named after fallen officer Natalie Becky Corona from the Davis Police Department in California, her end of watch date being January 10, 2019. Officer Corona was shot several times, unprovoked, on duty, while investigating a collision scene. She was only 22 years old and served 5 months after graduating the police academy. Theresa was particularly moved by this sad incident as she could relate to being so young starting out and being a woman on the force. K9 Detective Natalie is a tribute to Officer Corona.
Natalie is in her basic obedience training modules. When she reaches 6 months old, she will begin her explosives detection training. By this time next year Natalie will be ready for the Jewish high Holy days accompanied by her handler and best of friend, Officer Theresa DaSilva.
Keep an eye out for their trading cards coming soon!
The K Street Group delivers customized security and risk mitigation services for public and private sector corporations, groups and individuals. Its experienced subject-matter experts deliver effective solutions and customized professional services for any situation, anywhere in the world. For more information contact Robert Aromando, Chief Operations Officer at baromando@kstreetassociates.org or 908-200-7344 and visit http://www.kstreetgroupsecurity.com
Follow us out on Facebook and Instagram! @kstreetgroupsecurity