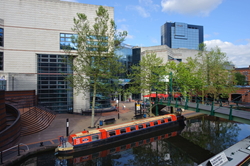 We look forward to welcoming BOA delegates back to Birmingham for events, which we anticipate will generate a £5 million economic boost to the region
Birmingham, UK (PRWEB UK) 13 May 2014
The International Convention Centre (ICC) Birmingham has signed a three year contract with the British Orthopaedic Association (BOA) following a successful bid from the ICC and Marketing Birmingham against three other UK venues. The bid showcased the ICC venue and city improvements, including the new Library of Birmingham, Birmingham Airport runway extension, and the redevelopment of New Street station and the Pallasades shopping centre opening in 2015.
The BOA will return to the ICC for their Annual Congress in 2018, 2020 and 2022. The BOA is a regular visitor and their three day Annual Congress at the ICC in 2013 saw record delegate numbers exceeding 1,700 for the first time in BOA's history. All of the facilities at the ICC were used including Hall 3 for their exhibition and the flagship Hall 1 auditorium for plenary sessions.
One of the challenges is to ensure that there is something new for delegates; the experienced ICC team used their extensive event management capability to offer innovative and creative solutions for the BOA which was tailored to their requirements. At the 2013 event, for the first time since its installation, the media wall in the registration area had a live camera feed from the main Plenary Session in Hall 1 and a Twitter feed. This gave a whole new dimension to the Annual Congress providing additional interactivity and visual impact for delegates.
Catherine Newhall-Caiger, Business Development Director for the ICC agreed the three year deal and said: "We are thrilled to have signed this three year contract with the BOA – it is a great testament to everyone at the ICC that they have chosen to return again to our venue and city. We hope to build upon the success of the 2013 Congress and we will work in partnership with the BOA to continue to create new and exciting event experiences to ensure they continue to achieve their event objectives for their delegates and exhibitors."
Mike Kimmons CB, Chief Executive Officer for the BOA says "We are delighted to confirm our return to the ICC Birmingham in 2018, 2020 and 2022. Located in the heart of the UK, the ICC is highly accessible with the vibrant city centre on your doorstep. The ICC's flexible venue caters for our different room requirements, exhibition space and plenary sessions. The dedicated team take the time to understand our needs and tailor their event packages to meet our expectations. We have been very happy with the service received and look forward to working with the ICC again."
Ian Taylor, Commercial Director at Marketing Birmingham, which operates the city's business tourism programme Meet Birmingham, said: "With more medical technology companies based here than in any other UK region and more life sciences employees than any other core city, the three-year deal to bring the BOA's Annual Congress back to Birmingham further enhances our strong relationship with the sector. The record number of delegates at the 2013 Congress serves as another example of the city's outstanding connectivity to and from all major destinations in the country. We look forward to welcoming BOA delegates back to Birmingham for events, which we anticipate will generate a £5 million economic boost to the region."