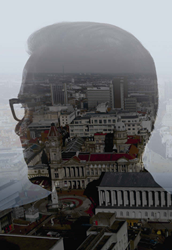 we aim to inspire and encourage people to come and enjoy the region for themselves.
Birmingham, UK (PRWEB UK) 28 February 2014
Four leading figures from Birmingham's conference and events sector are set to play a key role in the region's latest business tourism promotional campaign "Where the World Meets".
The advertising campaign, which first launched in 2013, highlights the factors behind the Birmingham region's leading status as a conferencing capital. Working with the UK's principal business tourism publications, this year's activity – which includes a series of striking profile images against a backdrop of the city's skyline – will be seen by more than 700,000 senior event organisers and industry professionals.
The campaign's key messages, including the region's central location, connectivity and variety of world-class venues, will form the backbone of the city's exhibition presence throughout 2014. This includes domestic events such as the BOBI (Best of Britain & Ireland) tourism trade show in March, and leading worldwide meetings exhibitions AIME 2014 (Asia-Pacific Incentives and Meetings Expo), IMEX Frankfurt and IMEX America.
Spearheading the campaign, and highlighting why they believe Birmingham is 'Where the World Meets' through a series of online interviews, are Julian Kettleborough, commercial director of meeting venue thestudio; Suzanna Reid Barreiro da Silva, sales and marketing manager of Searcys at the newly-reopened Birmingham Repertory Theatre; Stephen Cresswell, senior general manager of De Vere Hotels & Leisure Limited and Lisa Cook, account director at the International Convention Centre.
Commenting on his involvement in the campaign, Kettleborough said:
"Raising Birmingham's business tourism profile not only enhances perceptions of the city globally, but also plays a large part in engaging civic pride. We have a great city and one we should all be very proud to promote."
Cresswell added:
"I am passionate about the region, having lived and worked here for many years. It is already considered to be a leading European business destination and continued investment in the developments at New Street Station, expansion at Birmingham Airport and the HS2 Link demonstrate the desire to attract interest from further afield."
The "Where the World Meets" campaign coincides with the launch of the new Meet Birmingham website (http://www.meetbirmingham.com), making it quicker and easier for online visitors to search for organiser and delegate information, as well as useful information on the city region.
Named as the UK's most popular conference and events destination outside London by the British Meetings and Events Industry Survey 2013/14, Birmingham's growing popularity has seen visitor figures reach an all-time high of 33.8 million, an 11% increase over the past six years.
Ian Taylor, commercial director at Marketing Birmingham, the city's strategic marketing partnership that operates Meet Birmingham said:
"Our latest 'Where the World Meets' campaign shines a spotlight on the people who make our business tourism sector tick – those who are passionate about the region and want to help spread the message.
"From large, international events to smaller, more intimate meetings, we are regularly praised for the warm welcome that we offer our many event visitors. By highlighting some of our key venues' top individuals as part of the campaign, we aim to inspire and encourage people to come and enjoy the region for themselves."
For more information on the "Where the World Meets" campaign and to find out more about the four individuals involved in the promotion, please visit http://www.meetbirmingham.com/wheretheworldmeets.