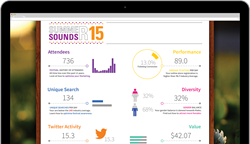 "Educational Measures is leading the digital strategy for an entire industry," said Glen Rabie, CEO of Yellowfin.
Denver, Colorado (PRWEB) February 07, 2017
Educational Measures LLC ("EM"), the leader in live meeting analytics and engagement technology, announced today the selection of Yellowfin Business Intelligence (BI) platform as the foundation for the EM analytic platform and applications. For meeting stakeholders who understand the value of analytics, there is potential to cut meeting costs, increase operating efficiency and multiply meeting return on investment.
Yellowfin BI provides web and mobile access for reporting, dashboards, analytics, collaboration and business level communication of extensive event and conference data. The Yellowfin platform is exactly what it takes to unlock the data stored in EM's massive data repository, designed to house information from across the entire event and conference technology spectrum.
"We selected Yellowfin because no one can match their ease of use, collaboration, communication and information sharing capabilities," said John Santaferraro, chief analytics officer of EM. "We want to make sure that we are building on an open platform with information delivery for everyone in the meeting supply chain. From meeting planner and implementer to business champions and senior management, everyone should have what they need to make data-driven decisions."
"Educational Measures is leading the digital strategy for an entire industry," said Glen Rabie, CEO of Yellowfin. "We are excited to help them fully leverage every component in our business intelligence and analytics toolkit. The meetings and events industry is on the verge of a data and analytics revolution and we are glad to be at the heart of empowering next-generation live meetings."
About Educational Measures
Educational Measures is the leading provider of live meeting analytics and engagement technology. Our next-generation EM ARRAY® second screen technology takes ordinary meetings and turns them into dynamic experiences. Live meeting data and analytics drive actionable insight for continual improvement. Our customers increase audience engagement by up to 20X, surprise attendees with more than 25 interactive capabilities and continually improve meeting impact with data driven insight. Educational Measures® and Educational Measures ARRAY® are trademarks of Educational Measures LLC.
About Yellowfin
Yellowfin is a global Business Intelligence (BI) and analytics software vendor passionate about making BI easy. Founded in 2003 in response to the complexity and costs associated with implementing and using traditional BI tools, Yellowfin is a highly intuitive 100 percent Web-based reporting and analytics solution. Yellowfin is a leader in Mobile BI, Collaborative BI and Embedded BI, as well as Location Intelligence and data visualization.
Over 10,000 organizations, and more than 2 million end-users across 70 different countries, use Yellowfin every day. For more information, visit http://www.yellowfinbi.com or watch this introductory video.