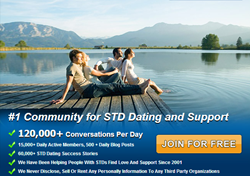 Los Angeles, CA (PRWEB) February 26, 2014
According to the data of PositiveSingles.com on Feb.20, 2014, thousands of STD infected single people registered on PositiveSingles.com during the week of Valentine's Day to find their love and happiness. Compared to the number of new members last Christmas, there was a sharp increase this year during the week of Valentine's Day.
PositiveSingles.com is the largest online dating site for people who are living with herpes, aids, hpv or other STDs. The huge increase of new members indicates that more and more STD infected people tend to seek partners who are similar to them, which, to some extent, can decrease the risk of new STD infections.
According to the data of CDC, there are about 20 new infections every year. That might be the reason why there's a big increase in the number of members on STD dating site.
PositiveSingles.com also analyzed the age of the new members of the site. The result surprisingly showed that new members aged from 20 to 25 were the major part of the increase, about 35%, while senior people (aged 60-65) were listed as the second, about 22%.
Valentine's Day is the most romantic day of the year. It may also be a day that thousands of people possibly get infected with STDs. For STD infected people, it is very hard but important to let their partners know about their status. For people not infected with STDs, safe sex is the best advice.
About P ositiveSingles.com
As the largest and most trusted online dating site for people living with Herpes, HPV, HIV / AIDS, Hepatitis, Chlamydia, Gonorrhea, Syphilis and other STDs, PositiveSingles.com is completely anonymous and cares about members' privacy more than other sites. You are not required to submit any information that you are not comfortable with on this site. Whatever you are looking for Herpes dating, HPV dating, HIV AIDS dating, or any other STD dating, PositiveSingles.com is the best place.