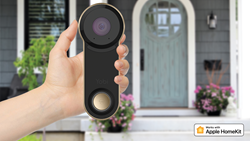 Approval was given by Apple Inc. when they listed Yobi B3 as an official HomeKit enabled doorbell: https://apple.co/3e9CvzI
SAN JOSE, Calif. (PRWEB) April 15, 2020
Meet Yobi announced today the launch of their smart doorbell Yobi B3, that's changing the way iOS users protect their home. Available today for pre-order at just $199.99 on meetyobi.com and soon on Kickstarter.
With its sleek and unique design, Yobi B3 has undergone years of hard work and development to bring you a smarter, more secure home. With a refined list of top security features, Yobi was designed to bring all homeowners protection and peace of mind.
A final nudge of approval was given by Apple Inc. when it listed Yobi B3 as an official HomeKit enabled doorbell: https://www.apple.com/ios/home/accessories/#section-bell
Smart Doorbell Yobi B3 Features:

Apple HomeKit Enabled
Full HD 1080p video with Ambarella® 55 Chip
180° Field of View
Infrared Night Vision
Smart Motion Alerts by Excelitas® PIR Sensors
Two-way Audio Speakers
Waterproof and Weather Resistant
Fresnel & Evetar Lens for ultra HD Image
"We are extremely proud and excited to be launching our first HomeKit enabled Doorbell," said MeetYobi founder, Karl Xu. "For the past seven years, our team has brought to the market over 3 generations of smart baby security monitors. So, with our extensive experience in safety and security, Yobi B3 was designed with top-notch features that can bring peace of mind to homeowners."
With the Apple Home App, users can now answer their doorbell, manage visitors or suspicious characters simply by asking Siri.
About MeetYobi & iBaby Labs Inc.
MeetYobi is the sister company of well-established baby monitor leader iBaby Labs, a Silicon Valley-based startup specializing in video monitoring and wellness connected home products for the whole family. For the past nine years, iBaby has been changing parent's lives with smart baby monitors that are sold online with Apple, Amazon, Nordstrom, Target, BuyBuyBaby, Walmart, and other major retailers.
And now, the alumni of baby Labs are determined to make MeetYobi a game-changer in the home security industry.
Visit meetyobi.com or ibabylabs.com to learn more. If you have any media inquiries or you're interested in reviewing, email us at media@ibabylabs.com.