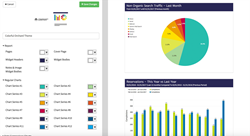 Megalytic's theme editor enables users to view their report on the right hand side while selecting colors from the theme editor on the left.
New York, NY (PRWEB) February 27, 2017
Megalytic, a reporting tool used by digital marketing professionals around the globe, announces today the introduction of report themes providing their customers with fine-grained control over the colors used in their reports. Report themes are Megalytic's latest feature positioning the tool as the most powerful and flexible platform for creating digital marketing reports.
Megalytic users can now control the colors used in all components of their reports, including chart colors, page backgrounds, widget headers, cover pages, and more. Megalytic provides 9 different built-in themes which can be used as-is, or edited to create custom themes that match a company's brand or reflect a marketer's personal style. Users can save their custom themes and apply them to new reports with a single click. Furthermore, report templates can be assigned themes, so that new reports created from such templates inherit a standard theme by default.
Megalytic's theme editor enables users to view their report on the right hand side while selecting colors from the theme editor on the left. Colors can be assigned to individual chart series and will then be standardized across all the widgets in the report. This approach gives the user detailed control over colors while sparing them the tedious work of needing to select individual colors for each widgets.
"Report themes, like everything else in Megalytic, is a feature designed to eliminate the grunt work from digital marketing," said Mark Hansen, CEO of Megalytic. "Once the user has created and saved a theme for branding their reports, this theme can be effortlessly applied to all their marketing reports. In addition, changes to the theme can be applied to all reports simultaneously."
As data gets more important to digital marketers every day, Megalytic has gained a loyal customer base by offering powerful and highly customizable reporting that provides built-in integration with data sources such as Google Analytics, AdWords, Search Console (Webmaster Tools), Facebook Pages and Facebook Ads. With the release of its Report Themes feature, Megalytic demonstrates its commitment to world-class report design in addition to data integration.
For those interested in learning more, Megalytic offers a free 14-day trial and multiple payment plans to fit various needs and budgets.
About Megalytic
Founded in 2011 by its CEO, Mark Hansen, Megalytic's analytics reporting software helps thousands of digital marketing professionals throughout the world create engaging reports that deliver the right data, to the right people for more informed decision-making. Its highly customizable features allow users to build professional reports for a variety of audiences. To learn more, visit the Megalytic website or check out its blog covering an assortment of analytics topics.