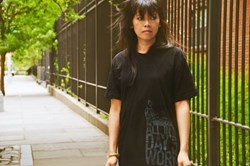 Peekskill, NY, USA (PRWEB) September 23, 2013
Mine is Yours Apparel (MIYA) company is fueled by authenticity. These are tees that have originated as paintings. NY based fine artist Megan Dorien founded MIYA after the realization that art was not only something that had to hang on your walls. The idea behind MIYA is that beautiful art can be taken everywhere just by wearing a t-shirt.
The culture that art, music and apparel has created made the move a natural step for the artist. The t-shirts are manufactured in the USA in Brooklyn, NY and each tee is printed by hand, one by one.
These are more than just t-shirts; the print process itself is a work of art. They use only water based inks because it produces incredibly soft, smooth, breathable images. The shirts feel as incredible as they look. This process is also more eco-friendly which is very important to them. Because water is the main solvent in the inks, manufacturing and disposing are both much less harmful to the environment than other methods of printing. It avoids all of the harmful PVC's and phylates.
Unlike the "industry standard" plastisol inks, water based inks are so soft that they can't be felt on the fabric. Plastisols are PVC plastics that sit on top of the shirt, so they feel stiff and heavy. The water based inks that MIYA uses soak into the fabric and re-dye the strands, thus becoming part of the fabric. It creates the "vintage feel" that many people find superior. There is no cracking or peeling because it has become part of the shirt fabric. Their process lets the shirt be what it is supposed to be: fabric.
In an effort to "give back what they've taken", MIYA has created what is called "Germinate & Reciprocate". Every hangtag on each shirt doubles as a seed pack. In it you will find random flower seeds that will change with every month. It may not seem like much but even the smallest seed helps the earth's ebb & flow.
Read the full article here: http://iloveyourtshirt.com/new,Mine-is-Yours-Apparel