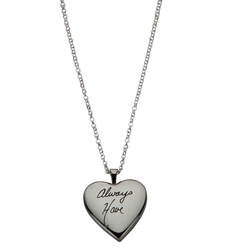 Engraving is my creative passion.
St. Louis, Missouri (PRWEB) May 13, 2015
Megan Goldkamp Jewelry (http://www.megangoldkamp.etsy.com) has had its Personalized Handwriting Locket and other custom jewelry designs showcased on the Bobbie's Buzz Segment of TODAY Kathie Lee & Hoda. The episode aired May 1, 2015 on NBC.
Megan Goldkamp was asked to send samples to Bobbie Thomas' team when they came across her jewelry on online marketplace, Etsy.
"I was thrilled to be asked, and even more excited when my jewelry was selected to feature in the Bobbie's Buzz segment about Custom Keepsake Gifts for Mom. My jewelry has been worn on television shows like Parenthood and Baby Daddy, but this is the first time attention has been placed on my handwriting engraving."
The sterling silver locket features a high-polish front and a satin finish back, and hangs on an 18-inch sterling silver chain. It is hand-engraved by Megan herself using a specialized polished and sharpened steel chisel, and showcases the giver's own handwritten words. Said Kathie Lee, "That is unbelievable… I loved that thought." Bobbie Thomas commented, "I couldn't believe how unique that was… really special."
The Locket is available to custom order at megangoldkamp.etsy.com, starting at $130.00.
In other news, Megan recently gifted some of Hollywood's most talked about celebrity moms and moms-to-be as part of a collaborative 2015 Mother's Day Gift Bag from by-invitation-only The Artisan Group®. Those who received a Language of Love Necklace included Emily Deschanel, Amanda Peet, Alicia Keys, Jessica Pare, Zoe Saldana, Carrie Underwood, Kelly Rowland and Rachel Leigh Cook, among others.
Megan Goldkamp Jewelry has been worn on The Young and The Restless, Parenthood, Days of Our Lives, Baby Daddy and The Vampire Diaries. Megan works with the United Cerebral Palsy of New York City and has donated 200 handwriting necklaces for the charity event which took place May 7.
Megan specializes in designing and creating custom, personalized handwriting and memorial jewelry for women and men that captures emotional moments for the giver and the wearer. She hand-engraves every piece, and takes great pride in matching the handwriting samples she receives perfectly. She says, "I realize how important these sentiments are to my customers and take great care in creating each piece."
Customers are especially fond of Megan's handwriting engraved three-quarter inch silver necklace, a classic that can be worn for almost any occasion, but order pendants, lockets, bracelets, earrings, cufflinks, tie bars and keychains as well.
Megan has been creating jewelry for years but found her business taking off after she participated in a 3-month long jewelry program in Virginia over seven years ago. She notes, "I had my first experience with engraving in Virginia, but went on to delve further into the subject by taking specialized courses across the United States. I also studied with a master jeweler in Europe in order to further hone my skills. It has become my creative passion."
To learn more about Megan Goldkamp Jewelry, visit http://www.megangoldkamp.etsy.com. Follow Megan Goldkamp Jewelry on Facebook (@megangoldkampjewelry), Twitter (@megangoldkamp), Instagram (@Megan_Goldkamp_Jewelry) and Pinterest (@MeganGoldkampJewelry).
About Megan Goldkamp
Megan Goldkamp (http://www.megangoldkamp.etsy.com) has always had a love and passion for creating things. She began her jewelry education in 2008 learning about wax carving and casting. She has developed and grown from there through multiple classes all around the globe. She studied at a full time bench jewelry program, and eventually decided to focus on engraving.
Megan's handwriting jewelry evolved from a gift idea for a friend who had moved to Malaysia. Her friends wanted her to know she was missed and thought about often, and what better way than with handwriting. Megan's collection of handwriting engraving pieces has just grown from there.
Every item is designed, created, and shipped by Megan herself; so customers can be assured what they are buying is completely unique and personal from start to finish. Megan is a proud member of by-invitation-only The Artisan Group®.