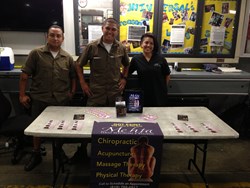 It breaks my heart to see such good people suffer injuries and strain when it could be prevented
Encino, CA (PRWEB) August 29, 2013
Since the economic crisis of 2008, employees of all shapes and sizes have found that their workloads have been increased by as much as double. That is for those workers who were lucky enough to keep their jobs at all. This has led to a staggering increase in workplace injuries and stress, especially for factory and big-box employees.
For over a decade, Encino, CA chiropractor and business owner, Dr. Amit Mehta D.C. has been treating Southern California residents and taking a special interest in factory, union and big-box employees. He has found that many of these workers have similar, if not identical, health issues and injuries. "It breaks my heart to see such good people suffer injuries and strain when it could be prevented" stated Dr. Mehta in a recent interview. So he has pledged to do something about this epidemic.
For 6 years he and the dedicated staff at Mehta Family Healthcare (http://www.MehtaCare.com) in Encino, CA, have been sponsoring free health fair events for the employees at many Fortune 500 businesses. They work exclusively with companies such as UPS and 3M, Whole Foods and other grocery store chains. This month, they provided a very successful event at UPS's hub in Van Nuys, CA along with other great events. They offer free services for these hard working people, including massages from experienced CMT's, chiropractic exams, physical therapy exams and most importantly they teach the employees safety and prevention in the workplace. There have been occassions when they brought food trucks and fun raffles with prizes such as Lakers tickets and TV's to these businesses.
An avid Green Bay Packers fan, Dr. Mehta grew up near Green Bay, WI amongst many factory workers and has always respected them, "as they are the heart of our economy". This is why he has grown to respect these important people and wants to honor them by making the workplace a safer environment. Now with many of the country's largest Fortune 500 companies under his belt, he finds himself in very high demand to help make the workplace safer for as many people as possible. All while treating hundreds of patients a week in his Encino, CA wellness center.
Dr. Mehta and Mehta Family Healthcare have also donated their time and resources to children's causes as well. Recently they had a booth teaching youngsters healthy living and safety at Steve Smith's Football Fundamental Camp in Los Angeles. On September 7th, they will also donate resources, time and school supplies for underprivileged children at Kids Day of Service at Whole Foods Market in Sherman Oaks, CA on Sepulveda Blvd. This event joined 19,000 families working to make our communities better.
More information about the corporate health fairs, Dr. Amit Mehta, and Mehta Family Healthcare can be found on their website, http://www.MehtaCare.com.