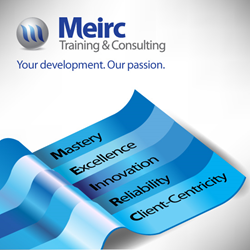 Meirc Training & Consulting - Your development. Our passion.
Dubai (PRWEB) November 03, 2014
Meirc Training and Consulting has set its sight on yet another challenging vision, one that transforms clients into partners and transcends quality by elevating it to trust. Today, Meirc is proud to launch its vision for the years 2015-2020 which reads: "To be our clients' most trusted partner in developing excellence for generations to come."
"What this means for our clients is that the utmost level of a trusted partnership, both earned and maintained, will be the foundation we will rely on to design, deliver and follow through on any training or consulting service our clients entrust us with," said Samer Taher, Meirc managing director.
Meirc's vision will be fueled by a mission driven by five core values, which will form the basis of every decision it takes. These values are purposely reflected in the letters which make up the name of the organization: MEIRC.
Mastery, Excellence, Innovation, Reliability and Client-Centricity or MEIRC for short; Going forward, every action taken by Meirc will actively embody these values in order to reinforce its position at the forefront of the training and consulting industry. These values are the pillars Meirc will rely on to become their "clients' most trusted partner in developing excellence."
Founded in 1958, Meirc Training and Consulting ("Meirc") is a leader in providing training and consulting products and services in the region. The company offers a wide range of human capital solutions designed to drive growth and excellence … for generations to come.
Meirc is a registered trademark of Meirc Training and Consulting in the United Arab Emirates and/or other countries.
For more information: visit http://www.meirc.com