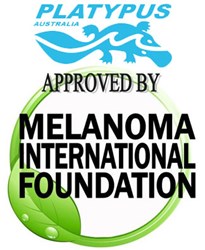 The seal further adds to our global standing as a provider of effective UV protective swimwear for infants, children and teens.
Sydney, NSW (PRWEB) December 09, 2013
Long-time supporters of ongoing sun safety education and UV swimwear solutions for children, Platypus Australia are well known within their industry as forerunners for cancer prevention causes. Just recently, the Australian company's dedication caught the attention of the Melanoma International Foundation, who awarded them with their coveted Seal of Approval. The founder of the global children's swimwear retailer Ms. Karel Wheen was honoured to receive the recognition, "Having the fact we provide high quality, sun protective swimwear for children reinforced by the foundation is a real distinction for us. We simply do what we do because we care, so being acknowledged for our efforts is fantastic."
The process of being recognized by any highly regarded non-profit organization, who can endorse a business, is generally not easy. The difficulty lies in the non-profit institution's ability to validate the sincerity and integrity behind the for-profit company's product or service.
For instance, in order for a business to earn the Melanoma International Foundation's Seal of Approval, they must confirm the product is truly effective in preventing sun damage to people's skin or eyes. Furthermore, non-profit requires scientific testing data from a completely independent laboratory which is not associated with the for-profit company at all.
Unlike other businesses, Platypus Australia had no problem supplying all the verifiable evidence to the foundation to show their high quality, sun protective children's swimwear was genuine and effective. In addition to their UPF50+ rating, which is tested and approved by the ARPANSA, the Australian-based swimwear company can now add the Melanoma International Foundation Seal of Approval to their list of accomplishments.
The seal, which was awarded on 19 November 2013, is only provided to those who have products which demonstrate highly efficient methods of sun protection. "The seal further adds to our global standing as a provider of effective UV protective swimwear for infants, children and teens," says the Platypus founder.
Since the award, Ms. Wheen's company has been added to the non-profit organisation's website and presented with an official certificate for their "outstanding product and promotion of sun safe behaviours in accordance with the MIF Mission Statement."
Ms. Wheen reminds those in her resident country of Australia that the "hot summer sun is among us now so keep children sun-protected with the basic five SunSmart steps of Slip, Slop, Slap, Seek and Slide. That's slip on sun-protective clothing from our range, slop on sunscreen, slap on one of our broad brimmed hats, seek out shade in lunchtime hours, and slide on a pair of sunnies!"
On November 19, 2013 the leaders in UV protective children's swimwear were awarded the prestigious Melanoma International Foundation Seal of Approval. Platypus Australia has produced high quality sun-protective swim and beachwear for infants, children and teens since their inception nearly twenty years ago. Ms. Wheen closes by commenting "parents can view our range and learn more about the dangers of UV rays and prevention methods on our website." To see the company's wide range of UV protective swimsuits, caps, shirts, skirts, shorts and more, of which are all approved by the Nuclear Safety Agency and British Standard for Ultraviolet Radiation and Australian Radiation Protection, click here.
About Platypus Australia
Since their beginnings in 1996, Platypus Australia's quality children's UV protective swimwear has spread to the UK, Europe, Asia and USA. They're export-ready garments are internationally acclaimed and in high demand since the effects of harsh ultraviolet radiation are now well known.
Platypus Australia's beachwear gives parents peace of mind knowing their children are safe, while having fun in the sun. For more information regarding their renowned product range, visit http://www.platypusaustralia.com.