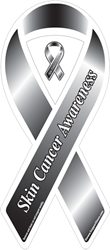 I lost a best friend to melanoma. Please use these inexpensive items to help others avoid too much sun. Ron Reimann, President
Chicago, IL (PRWEB) May 30, 2014
Now available, Supportstore carries 20 different awareness items to help spread the word about skin cancer.
The company is acutely aware of skin cancer issues as four of the six employees have themselves experienced various stages of skin cancer, including basal cell carcinoma, in citu melanoma, and earlier stage lesions.
Thus the skin cancer crusade takes on a special importance for the company. Stock items include inexpensive rubber wristbands with different messages such as:
-- "Know Your Moles - Melanoma Awareness" in a black wristband
-- "Spot it Early - Prevent Skin Cancer" in a black wristband
-- "If Purple - PROTECT - Prevent Skin Cancer" in a UV sensitive wristband that changes color in the sun to remind the wearer to apply sunscreen or wear a hat, in adult and youth sizes.
-- "Hope Courage Faith" message debossed on a black rubber wristband
Other ways to get the word out about skin cancer from SupportStore include:
-- "Skin Cancer Awareness" 8" ribbon magnet for cars and metal surfaces
-- Black lapel pins in both metal enamel and embroidered in black thread
-- "Sun Cloths" uniquely designed to protect car drivers from driver-side sun exposure
These items and more are in stock and available for same day shipping in quantities as low as one, and as high as several thousand, with free shipping on orders of $40 or more. These items help support individual consumers, dermatology clinics, fundraising efforts and corporations wishing to make a difference. Most items are inexpensive with prices averaging $2.50 each.
In addition, a portion of each purchase is made available for a donation to charity including the American Cancer Society.
About SupportStore
SupportStore is an Illinois-based online only retailer of items people and businesses use to "shout out what they care about." Customers choose from 500 in-stock items that ship same day. Customers can also choose to create custom designed magnets and wristbands in bulk quantities.
Live US-based customer service is available by phone during business hours. Most products are designed and manufactured in the United States of America.
SupportStore is a registered trademark and "Shout out what you care about" is a trademark of ZapTel Corporation.