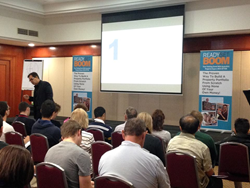 The truth is that affordability is in the terms of the deal, and not just the price.
(PRWEB) May 11, 2014
Only 12.2 percent of suburbs in Melbourne remain affordable to regular Aussies, The Herald Sun reported on 30 April 2014.
Last year, 15.3 percent of suburbs were found to feature houses below $300,000, but the latest figure from The Bank of Queensland showed a 3.1 percent decline in affordability within the city.
"Affordability is a big issue for home buyers and property investors, not only in Melbourne, but also around the country, since your passion to own or buy a house can't be translated into reality if you're not able to pay for the house or property you want," according to Rick Otton, the host of the highly anticipated Ready, Set, BOOM.
"Unfortunately, with house prices up, not a lot of real estate out there is considered 'affordable' in the conventional sense. So to find affordably priced houses, buyers either try to bring down the price of a house for sale or they find a faraway suburb where houses cost less," he explained further.
Mr. Otton then shared in a new interview for the second round of Ready, Set, BOOM this year that Aussies won't have to travel far or haggle with sellers just to buy houses for sale, if they start thinking creatively on how to solve property problems.
"In a rising market, like in Melbourne, a creative solution to buy an 'unaffordable' house for sale is through seller finance. Rather than come up with all the money today, a buyer can negotiate for more flexible payment terms. One of the ways to do this is to assume the existing loan financing in the house, and then pay off the remaining equity in increments. In that way, a buyer will no longer have to take out a new bank loan and pay for a huge deposit. This makes it much easier for the buyer to pay the seller's price. Moreover, another benefit to the seller is that he or she can move away from unwanted debt quickly and create positive cash flow," he added.
"The truth is that affordability is in the terms of the deal, and not just the price. When people hear success stories of how other people did it they suddenly become excited, asking about how they can also get in, commented Mr. Otton.
You can catch Rick Otton talk about his creative strategies live in Brisbane on 15 June 2014, Sunday, and 16 June 2014, Monday. Visit readysetboom.com.au to register for your free seat to the event.
For over 23 years property millionaire Rick Otton has built an impressive real estate portfolio using innovative strategies that he has developed – strategies in which transactions are made without the need for traditional bank-type loans.
He constantly refines his techniques as he buys and sells properties through his We Buy Houses business which operates in Australia, New Zealand and the UK.
A gifted speaker and educator, Mr Otton conducts regular workshops across Australia, which build on the the concepts he shares in his 2012 book 'How To Buy A House For A Dollar', voted by Money Magazine and Dymocks Book stores as one of the Top 10 Most Popular Finance Titles for 2013.
He regularly records and publishes iTunes podcasts via his channel Creative Real Estate.
His innovative low-risk, high-reward approach to Australian real estate investing has been featured in a variety of television programs and magazines, including Today Tonight, Hot Property and Australian Property Investor.
To register for one of Mr Otton's free upcoming Australian seminars, visit ReadySetBoom.com.au or phone, in Australia, 1300 888 450.