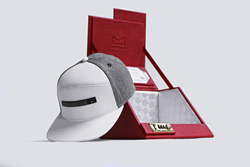 Materials, Details, Innovation" is a mantra that Melin lives by, and this new limited Holiday release of The Bar Stinger is no exception.
Oceanside, California (PRWEB) December 01, 2015
Southern California Premium Luxury Headwear Brand, Melin has just released 30 limited hats for the Holidays called The Bar Stinger, which are retailing for $1,200.
Melin is quickly becoming known as the "go-to" name when it comes to premium, high-end caps. The brand is renowned for its quality, presentation and style. "Materials, Details, Innovation" is a mantra that Melin lives by and this new limited Holiday release of The Bar Stinger is no exception.
At first glance, the presentation of this hat is extraordinary. Each hat comes in a proprietary Melin branded display box, wrapped in red leather, complete with a golden lock with personalized combination settings for access. This in itself is a first and the hat hasn't even been revealed yet.
Upon opening the elegant, lockable display box, a mounted Melin Certificate Of Authenticity can be seen. Each certificate is hand stamped signifying approval, but only after the hat passes a rigorous 88- point inspection. Everything from stitching, color consistency, flaws and scuffs all the way to pattern balance and overall construction integrity is checked.
On the exterior crown of the Bar Stinger, sits the jewelry grade, radius cut, molded metal bar trim with gloss black finish. There's a channel cut into the bar with an inlaid panel of 100% polished Stingray leather. On the metal bar, nested next to the Stingray is the debossed Melin "M" icon with a genuine 8-point diamond stone, which was cut by a premium jeweler in Los Angeles and mounted into the logo. The finished trim piece is not only eye catching and innovative but literally takes the standard in headwear branding to a new level not yet seen before.
The materials chosen as well as the hand built finishes of The Bar Stinger are remarkable. The front crown panels, top brim and strap back are all comprised of luxury grade, drum dyed, lamb Nappa Leather. The rear crown panels are made of black and white hand woven, breathable wool tweed. The undervisor panel is made with genuine sueded leather with a silky smooth hand. A proprietary moisture wicking lining is built into the interior crown utilizing custom sublimated graphics with the intention of keeping the hat looking clean as well as feeling cool and comfortable. There is even a hidden besom stash pocket on the interior crown panel. The attention to detail is impressive, even on the interior of this hat, which is generally overlooked in headwear.
Melin is a brand focused on elevating the headwear market by creating some of the most unique and innovative hats that have ever been created. Bridging the gap between luxury fashion, headwear and Southern California lifestyle, while blending boardsport culture with different styles of hip-hop, punk & trap style music. The product itself utilizes materials such as Italian Cashmere by Loro Piana, Nappa Leather from Spain, polished Stingray Leather, Japanese Neoprene, Denim, Egyptian Cotton, Titanium metal trims and even real 8-point diamonds from jewelers in L.A. The brand holds their product in the highest regard by continually introducing new innovation, materials and construction techniques.
There are only 30 of these Melin Bar Stinger hats made worldwide and they are available now online and at select, premium retailers. This is a one time, highly limited run and when they are gone, they are gone for good. For more information on the specifics of where this hat can be found, visit http://www.melinbrand.com and @melinbrand on Instagram, Facebook and Twitter.
###
About Melin:
Founded by two longtime friends in 2013, Melin is a Southern California lifestyle headwear brand that is focused on raising the status quo through new materials, unique design and relentless innovation. Melin hats are intended for young minded, modern day individuals from diverse influential backgrounds who appreciate refined, quality product. Melin represents space where luxury meets the youth and cultures collide.