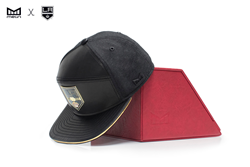 This collaboration with the LA Kings is a dream come true for me. I grew up in Kings jersey's, reppin that logo as often as possible so it's such an honor to see their logo next to ours - melin co-founder Brian McDonell
(PRWEB) October 17, 2016
Southern California Premium Headwear Brand, Melin, started working on a collaboration with Team LA in 2015 and has just released a limited edition collaboration series in celebration of the Kings 50th Anniversary.
The Melin x Team LA series of hats includes 3 different limited edition styles:
1. Go Kings Go – Black Label, MSRP: $100 limited to 300 Pieces
2. 50 Year Silver – White Label, MSRP: $250 limited to 300 Pieces
3. 50 Year Gold – Red Label, MSRP: $900 limited to 50 Pieces
Each cap is custom designed and includes a wide range of hand selected, premium materials ranging from Japanese Acid Washed Denim, Italian Cashmere and Spanish Napa leather all the way to Jewelry Grade Trims. The "50 Year Gold" Red Label Edition cap actually has an 8-Point VS diamond mounted in the emblem. All of the hats come in a signature Melin display box and after they pass an 88-point inspection from an independent auditor, the hats receive an official Certificate Of Authenticity.
When asked about this special Melin x Team LA collaboration, melin Co-Founder (and life long LA Kings fan), Brian McDonell had this to say:
"This collaboration with the LA Kings is a dream come true for me. I grew up in Kings jersey's, reppin that logo as often as possible so it's such an honor to see their logo next to ours in celebration of such a monumental milestone. Being a Kings fan is part of the McDonell family and it always will be. We are so honored and thankful and my hopes are that they will bring us back to do their 100th anniversary caps one day and maybe my grandkids can help work on them."
Luc Robitaille, President of Business Operations for the Los Angeles Kings said;
"We are very happy to celebrate our 50th anniversary with a capsule of great hats from Melin."
All of the hats will be available at Staples Center in Los Angeles as well as online at: Team LA Store
For more detailed information on the collaboration and more, visit http://www.melinbrand.com
About Melin:
Founded by two longtime friends, Brian McDonell and Corey Roth in 2013, Melin is a Southern California premium lifestyle brand focused on creating the world's best headwear through new materials, unique designs and relentless innovation. Melin products are built to bridge the gap from luxury fashion to premium streetwear.
See Everything At: http://www.melinbrand.com or on Instagram, Facebook & Twitter: @melinbrand
About AEG:
AEG is one of the leading sports and entertainment presenters in the world. AEG, a wholly owned subsidiary of the Anschutz Company, owns, operates or consults with a collection of companies including over 120 of the world's preeminent facilities such as STAPLES Center (Los Angeles, CA) and The O2 arena and entertainment district (London, England). Developed by AEG, L.A. LIVE is a 4 million square foot / $3 billion downtown Los Angeles sports, & entertainment district featuring Microsoft Theater, Club Nokia, and a 54-story, 1001-room convention "headquarters" destination. In addition to overseeing privately held management shares of the Los Angeles Lakers, assets of AEG Sports include franchises such as the LA Kings and LA Galaxy as well as the Amgen Tour of California cycling stage race. Along with AEG Facilities, other global divisions include AEG Live, the world's second largest concert promotion and touring companies comprised of touring, festival, exhibition and special event divisions and AEG Global Partnerships, responsible for worldwide sales and servicing of sponsorships, naming rights and other strategic partnerships. In 2010, AEG launched its AEG 1EARTH environmental program featuring the industry's first sustainability report while in 2011, AEG introduced AXS a comprehensive entertainment platform serving as the company's primary consumer brand including AXS Ticketing which provides fans the opportunity to purchase tickets directly from their favorite venues via a user-friendly ticketing interface; Examiner.com and the AXS TV network, a linear cable channel focusing on live entertainment and lifestyle programming available in over 40 million homes. For more information, visit: http://www.aegworldwide.com