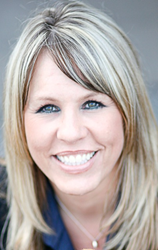 Thank you for nominating me as your Five Star Real Estate Professional!
San Diego, CA (PRWEB) April 01, 2016
Five Star Professional is pleased to announce Melissa Huk, Keller Williams Realty, has been chosen as one of San Diego's Five Star Real Estate Agents for 2016.
Five Star Professional partnered with San Diego Magazine to recognize a select group of San Diego-area real estate agents who provide quality services to their clients. Less than 5 percent of real estate agents in the area were selected. Melissa Huk was proudly featured in the March 2016 issue of the San Diego Magazine.
"Five Star Professional's research is extensive, with more than 10 million consumers, peers and other stakeholders contacted each year. We are relentless in our efforts to identify those professionals with the utmost standard of excellence," Jonathan Wesser, Research Director, Five Star Professional.
About the research process:
Now entering its 13th year, Five Star Professional conducts in-depth, market-specific research in more than 45 markets across the United States and Canada to identify premium service professionals.
Five Star Professional contacts thousands of recent homebuyers to identify award candidates. Phone, mail and online respondents rate their real estate agent on 10 satisfaction criteria. Candidates with a qualifying client satisfaction rating move on to be evaluated on objective criteria such as experience, production levels and disciplinary and complaint history.
Real estate agents do not pay a fee to be considered or awarded. For more information, visit http://www.fivestarprofessional.com.
Melissa Huk is a full-time Professional Realtor, licensed since 1995. Melissa was born and raised in San Diego where she resides with her husband three children and grandchildren. She is currently a Realtor of the Keller Williams Realty family in the Greater San Diego area. Melissa Huk serves the San Diego, North County Inland, coastal and International Markets.
Melissa's integrity, dedication and work ethic mark her as one of the industry's top real estate professionals by her clients and peers. Client satisfaction is the cornerstone of Melissa's real estate career.
Melissa's client - first PHILSOPHY… There are many qualities and skills that go into being an excellent real estate professional integrity, advocacy, in-depth community and market knowledge, effective negotiation skills and a high quality professional network of professionals all of which are hallmarks of how I work!
My business model is built on unwavering ethical standards and Avid community involvement with a TRUE passion for helping each and every one of my clients to achieve greater success out of each and every one of their transactions!
My team shares a PASSION and a vision by RAISING the bar in ALL areas of residential and real estate services. Let us know how we can help YOU!
Thank you for nominating me as your Five Star Real Estate Professional!