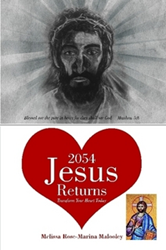 that Jesus loves us and God is merciful
BOCA RATON, Fla. (PRWEB) November 17, 2015
In "2054 – Jesus Returns: Transform Your Heart Today" (published by Lulu), author Melissa Rose-Marina Malooley shares her personal testimony of the fulfillment of God's promises and his enduring love. It is a story that seeks to awaken those who walk and live in darkness to the proposed reality that Jesus' return is imminent.
Inspired by her encounters with the Holy Spirit and demons, Malooley asserts that God and Jesus are real and that they love each and every person, and by embracing them in faith, humanity can achieve eternal salvation.
Malooley's testimony is a call to all, believers and non-believers, that they should live for Jesus first, worshipping and seeking God's spiritual path for their own lives. By attempting to show that Jesus is the way, the truth and the life, "2054 – Jesus Returns" emphasizes that everyone has been called to have a personal relationship with Him.
Through her story, Malooley hopes readers will see "that Jesus loves us and God is merciful" and be prepared for Jesus' return in just under 40 years time.
"2054 – Jesus Returns"
By Melissa Rose-Marina Malooley
Softcover | 6 x 9 in | 80 pages | ISBN 9781483422855
E-Book | 80 pages | ISBN 9781483422862
About the Author
Melissa Rose-Marina Malooley is an Antiochian Orthodox Christian. In January 2013, her life dramatically changed when she was violently attacked by a fallen angel. She now devotes her life to witnessing to others about the love of God, Jesus Christ and the Holy Spirit. She is married and lives in Florida with her husband and three daughters. This is her first book. She is currently working on her second book, "God's Divine and Sacred Frequency: The Paradox of God's Pure Light IN Jesus Christ."
Lulu empowers people of all ages to explore and express their interests, passions and expertise through books, photography and art. Since introducing self-publishing in 2002, Lulu has empowered creators in more than 225 countries and territories to produce nearly two million publications. Lulu Jr. allows children to become published authors, encouraging creativity, strengthening literacy and building self-esteem. Picture.com offers professional photography of collegiate and professional sports, memorable and historic events, fine art and home décor. For more information, please visit lulu.com.