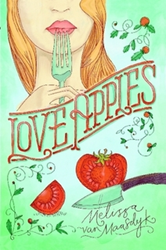 LONDON (PRWEB) January 09, 2017
Ambitious food writer Kate Richmond can conceive of no good reason to get married. She's seen where it got her mother and so has written her own recipe for life, relishing her career, with men on the side. A contemporary foodie romance – with recipes – Melissa van Maasdyk's "Love Apples" (published by Lulu) delves into love, marriage, infidelity and why people continue to invest in a convention so prone to failure.
"(The book) looks at the different faces of love reflected by the conflicting myths surrounding the tomato, or love apple, as tomatoes are known in Mauritius due to their purported aphrodisiacal powers," explains van Maasdyk. "Conversely, the British … initially thought that tomatoes were poisonous … and thus labeled them 'wolf peaches.' These contrasting views of the tomato are symbolic of love in that it can bring the greatest joy and ecstasy, as well as causing the deepest pain."
Divided between London's fast-paced publishing world and the laidback island of Mauritius, where Kate heads for work, the novel invites readers to sample the unedited dramas of a glossy magazine affected by digital media's "(encroachment) on print media" and the 2008 financial crisis. On a deeper level, it follows Kate's personal journey from commitment phobia to the realization that love may after all be the sweetest thing.
"Love Apples"
By Melissa van Maasdyk
Softcover | 6 x 9 in | 314 pages | ISBN 9781483452883
E-Book | 314 pages | ISBN 9781483452876
Available at Amazon and Barnes & Noble
About the Author
Melissa van Maasdyk has worked as a writer, sub-editor and editor on various magazines, including Elle Decoration in the U.K., Marie Claire in South Africa and Time Out in Bahrain, where she also wrote a travel guide to the kingdom. Food writing has featured prominently in her career, nurturing her passion for cooking, and adding flavor to "Love Apples," her first novel.
Lulu empowers people of all ages to explore and express their interests, passions and expertise through books, photography and art. Since introducing self-publishing in 2002, Lulu has empowered creators in more than 225 countries and territories to produce nearly two million publications. Lulu Jr. allows children to become published authors, encouraging creativity, strengthening literacy and building self-esteem. Picture.com offers professional photography of collegiate and professional sports, memorable and historic events, fine art and home décor. For more information, please visit lulu.com.