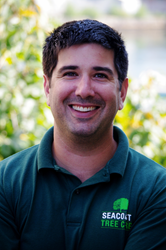 We've worked hard to achieve this certification, and are proud to be recognized at that level.
North Hampton, NH (PRWEB) May 28, 2015
Seacoast Tree Care's Dan Mello recently earned the International Society of Arboriculture (ISA) Board Certified Master Arborist certification. This new certification places Mello in a group of less than two-percent of all internationally recognized arborists, according to the ISA.
"Achieving BCMA took a lot of hard work and effort," Mello stated. "But it means we're at the top of the industry, and that's what our clients' expect."
The Board Certified Master Arborist is the most distinguished certification in the industry. Before becoming BCMA certified, candidates must pass a BCMA exam, obtain points through work experience, and complete 60 educational units in land management, biology, environmental preservation, and risk assessment. The BCMA is considered the gold standard for advanced-level certification.
The ISA is the only internationally recognized certification program for arboriculture. Members are expected to adhere to the ISA's Code of Ethics, which outlines the safety, environmental, and professional responsibilities in planting and caring for trees. The ISA is committed to giving consumers the confidence to hire a professional and safe tree-care company. "We've worked hard to achieve this certification, and are proud to be recognized at that level," stated Mello. "But honestly, this is about giving our customers the best level of service, and the certification helps them understand which companies are committed to always providing the highest level of work."
About Seacoast Tree Care:
Led by certified arborists and staffed with a team of college-educated professionals, Seacoast Tree Care is recognized as the Seacoast's premier full­ service tree, turf and plant health care provider. Expert prevention, maintenance and stewardship has created an unsurpassed reputation with discerning homeowners, commercial clients and landscaping professionals. Seacoast Tree Care serves the Seacoast regions of New Hampshire, northern Massachusetts and southern Maine.
http://www.seacoasttreecare.com
About the International Society of Arboriculture (ISA):
The International Society of Arboriculture (ISA), Headquartered in Champaign, III., U.S., is a nonprofit professional organization supporting tree care research and education around the world. As part of ISA's dedication to the care and preservation of shade and ornamental trees, it offers the only internationally-recognized certification program in the industry. For more information about ISA and Tree Risk Assessment Qualification, visit http://www.isa-arbor.com. To promote the importance of arboriculture and help educate the public about the value of proper tree care, ISA also manages the consumer education website http://www.treesaregood.org