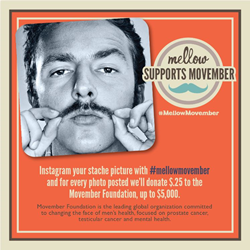 That's why we love Movember. Not only are we able to support a good cause, but we're able to incorporate our customers and employees into enjoyable activities and get them genuinely excited about giving back."
Atlanta, GA (PRWEB) November 11, 2014
This November, Mellow Mushroom Pizza Bakers will host a series of events to raise funds and awareness for the world-famous Movember Foundation— the leading global organization devoted to changing the face of men's health by bringing attention to prostate cancer, testicular cancer and mental health.
To kick off the month, the national restaurant franchise will invite enthusiasts nationwide to Instagram their hard earned 'staches in the name of a noble cause. For every moustache photo hashtagged #MellowMovember, Mellow Mushroom will donate 25 cents to the Movember Foundation.
Customers will also have the chance to drink for donations, with beverages like the "Trimmed Stache" (Minute Maid Lemonade and Lipton sweet tea) and the "Full Stache" (Minute Maid Lemonade, Lipton sweet tea, St. Germain elderflower liqueur and Jameson Black Barrel Whiskey). For every drink downed, Mellow Mushroom will donate another 25 cents to the Movember Foundation.
"We're always looking for ways to both engage and enhance the communities we serve," said Annica Kreider, the Vice President of Brand Development at Mellow Mushroom Pizza Bakers. "That's why we love Movember. Not only are we able to support a good cause, but we're able to incorporate our customers and employees into enjoyable activities and get them genuinely excited about giving back."
Mellow Mushroom HQ has also initiated an intense round of internal competitions for independently owned Mellow Mushroom locations across the nation. In addition to special, incentivized, sales challenges for servers, every shop has been given the opportunity to devise a Movember party of its own.
Other opportunities for participation and donations include ordering a tie dye pint glass (http://www.mellowmushroom.com/stache) with a custom etched name or message, and shipped to the location of choice. Proceeds from those orders will benefit the Movember foundation as well.
About Mellow Mushroom Pizza Bakers
Mellow Mushroom Pizza Bakers (http://www.mellowmushroom.com) was founded in 1974 in Atlanta, Georgia. This franchise, operated under Home-Grown Industries of Georgia, Inc., is headquartered in Atlanta, Georgia. For 41 years, Mellow Mushroom Pizza Bakers has been serving up fresh, stone-baked pizzas to order in an eclectic, art-filled, and family-friendly environment. Each Mellow is locally owned and operated and provides a unique feel focused around great customer service and high-quality food. For more information on Mellow Mushroom Pizza Bakers, like us on Facebook a http://www.facebook.com/mellowmushroomHQ, follow us on Twitter at