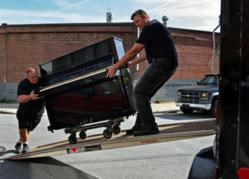 (PRWEB) August 25, 2013
Melrose Moving Company has release a blog presenting 3 tips on how to move heavy musical instruments in Calabasas or nearby cities!
Heavy instruments include pianos, drums, tubas, organs etc. Moving heavy instruments requires a lot of attention and patience. People who need to move their heavy instruments have to plan several days ahead and need to organize and plan their move.
Furniture that can get in the way has to be removed so that pianos can be carried out of the house and into the moving van. It is difficult to find suitable boxes for big musical instruments. However, some sort of protection is necessary. The best way to protect a piano is by wrapping it in a casing. This will prevent any damages that may occur because of bumps and shaking.
When in the van, heavy musical instrument have to be securely fastened so that they do not move during transportation. People should not put too much weight on their musical instruments because although they are big, they are also very fragile as any damages can put them out of tune.
Movers provide great services for moving heavy musical instruments and people should always rely on their services. It is recommended to call a professional moving team rather than handling expensive items alone.
"Moving Companies in Calabasas provide great packing and moving services for musical instruments. Musicians who need to move their equipment in time, should always call Calabasa movers!" said Russell Rabichev, Marketing Director for Melrose Moving.
Melrose Moving Company is a Los Angeles-based residential and commercial moving company. Originally established in 1999, and has been so popular that the owner started various other moving companies, such as 1 Los Angeles Movers, Movers Los Angeles, and Los Angeles Commercial Movers, all of which are operated by Melrose Moving. The moving company is licensed by the Public Utility Commission (PUC), and has an A rating with the Better Business Bureau (BBB). Melrose Moving accepts cash, checks, credit cards, and Paypal.
For more information, click on http://calabasasmovingcompany.com/ . Call now: 1.800.431.3920.