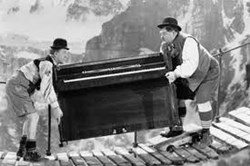 (PRWEB) September 29, 2013
Melrose Moving Company has released a blog offering tips on how to pack and wrap a piano or other heavy musical instruments.
Pianos and other heavy musical instruments require a lot of effort to pack and move. Musicians and other people should first look at a list of tips and advice before attempting to move pianos on their own.
These tips are meant to make moving heavy instruments less stressful and tiring. Some of the tips offered include: careful planning, adequate use of moving supplies and recommendation not to work alone.
Planning and organizing a move is very important. Clients should always plan and think ahead. They will need to take some preliminary actions. All of these are explained in the blog.
Pianos although heavy, are also fragile. A small bump can damage the instrument or put it out of tune. In order to give pianos the best protection, clients should always use high quality packing materials. Padding can be offered by blankets, bubble wrap and the instrument's casket. Clients are always advised to pack and move their instruments in their original casket!
Movers can offer great assistance when moving musical instruments like pianos. They have experience, professional tools and appropriate vehicles for transportation. Clients are always advised to call a moving company if they have to pack and move heavy musical instruments.
"Clients from Sherman Oaks can get the best moving services at competitive prices. Calling a Sherman Oaks moving company will make moving musical instruments easy and pleasant!" said Russell Rabichev, Marketing Director for Melrose Moving.
Melrose Moving Company is a Los Angeles-based residential and commercial moving company. Originally established in 1999, and has been so popular that the owner started various other moving companies, such as 1 Los Angeles Movers, Movers Los Angeles, and Los Angeles Commercial Movers, all of which are operated by Melrose Moving. The moving company is licensed by the Public Utility Commission (PUC), and has an A rating with the Better Business Bureau (BBB). Melrose Moving accepts cash, checks, credit cards, and Paypal.
For more information, click on http://shermanoaksmovingcompany.com/. Call now: 1.800.431.3920.