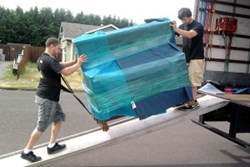 (PRWEB) September 15, 2013
Melrose Moving Company has released a new blog showing the benefits of moving and relocating during the summer season!
The summer season is the ideal time of the year for moving. There are several advantages which will make relocating a house or business a lot easier. The weather is usually clear, days are longer and people have more time.
The weather conditions may not be the best, since it can be very hot, but at least it will not rain often. Rains can cause flooding in some areas and it can make the roads significantly dangerous. Water can also damage your items if the boxes are exposed to rain.
The Summer holiday season can free up a lot of many people's time. Children are off school and if relocating, they do not interrupt the school year. Also, many people organize garage sales which can boost the moving budget. Clients can also use this opportunity to get rid of objects they do not longer need.
Moving companies are prepared to offer bigger discounts in the summer season so relocating during this period is usually cheaper. Movers can offer great prices for packing and transportation services.
"Clients in the Long Beach area who wish to relocate, should consider hiring Long Beach movers. They will pack and transport belongings at great prices!" said Russell Rabichev, Marketing Director for Melrose Moving.
Melrose Moving Company is a Los Angeles-based residential and commercial moving company. Originally established in 1999, and has been so popular that the owner started various other moving companies, such as 1 Los Angeles Movers, Movers Los Angeles, and Los Angeles Commercial Movers, all of which are operated by Melrose Moving. The moving company is licensed by the Public Utility Commission (PUC), and has an A rating with the Better Business Bureau (BBB). Melrose Moving accepts cash, checks, credit cards, and Paypal.
For more information, click on http://movingcompanyinlongbeach.com/ . Call now: 1.800.431.3920.