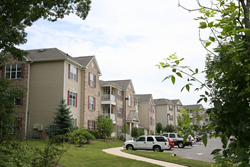 We're honored to be chosen as the new property management company for Covington Village and look forward to working with the premier luxury condominium community in Ocean County
Lakewood, NJ (PRWEB) March 19, 2014
Covington Village, an upscale active adult community in Lakewood, New Jersey, recently chose mem property management as their new property management company. Covington Village was previously managed by Association Advisors in Freehold, New Jersey.
Through a series of strategic acquisitions and the addition of the experienced property management professionals, mem property management has become the leading property management firm in New Jersey.
"We're honored to be chosen as the new property management company for Covington Village and look forward to working with the premier luxury condominium community in Ocean County," says Martin Laderman, founder and CEO of mem property management.
Covington Village offers residents a 12,000 foot clubhouse that features a state-of-the-art fitness center, movie theater, dining room, banquet room, spa, meditation room, social/game room, billiards room, lounge, heated pool and much more. With a variety of different models, each home includes an open floor plan, walk in closet, storage room, laundry room as well as a covered terrace for all-season enjoyment. Modern kitchens include granite countertops and breakfast bar.
Covington Village enjoys an enviable location just ten miles from the Jersey Shore. Lakewood boasts 1,200 acres of parks, three golf courses, as well as The Lakewood Blue Claws baseball team. Locals tour the former Rockefeller estate in Ocean County Park as well as the Gould Estate, which is now Georgian Court College. Covington Village residents are part of a diverse community with plenty of opportunities for leisure, shopping and entertainment.
"The housing market for the 55+ homebuyer is expected to continue to grow in 2014 and upscale residential communities like Covington Village are leading the way," explains Laderman. The National Association of Home Builders (NAHB) is projecting the share of U.S. households age 55+ will increase from 43.3 percent in 2014 to 46.6 percent 2020. Baby Boomers represent one of the country's largest age categories in size and by percentage and are, as a group, the nation's wealthiest, have the most housing equity, the least debt, the fewest mortgage delinquencies and foreclosures and are best qualified to buy homes.
"Baby Boomers are able to be highly selective in what kind of residential living is best for their pre-retirement and retirement years and they are choosing homes with beautiful interiors, well maintained grounds and incredible amenities for every imaginable interest – this is why Covington Village is one of the most popular active adult condominium communities in New Jersey," said Laderman.
About mem property management
mem property management is a privately held New Jersey property management company privileged to serve some of the finest communities throughout New Jersey including many of the major developers and builders as well as communities as diverse as small ocean-front condominiums to large master-planned communities with several hundred homes to age-restricted retirement communities.
To learn more about mem property management, please visit http://www.memproperty.com/ or call (201) 798-1080.