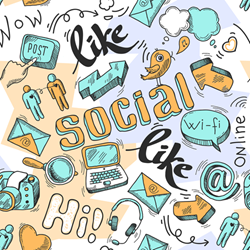 We are using social media to elevate the lifestyle of our residents and homeowners.
Somerset, NJ (PRWEB) June 19, 2014
mem property management, a top-rated property management company in New Jersey, is broadening its use of social media to connect communities and share important information online in real-time.
The move by mem reflects broader trends toward increased social media usage and activity by adults. As of September 2013, 73% of online adults use social networking sites, according to a survey by the Pew Research Center's Internet Project.
According to an article in Fast Company, social media isn't just for teenagers and twenty-somethings anymore. The fastest-growing age group on Twitter is 55-to-64 year-olds, up 79% since 2012, and the 45-54 age bracket is the fastest-growing group on both Facebook and Google+. mem property management hosts an active Facebook community with over 500 followers and a LinkedIn company page that is updated at least daily. mem also uses Twitter for important updates and alerts.
"Property management companies can provide an important service by being a valuable resource online for their residents. Whether we're sharing information about serious weather conditions or school closings or highlighting the best things to see and do in and around New Jersey every weekend, we are using social media to elevate the lifestyle of our residents and homeowners," said founder and CEO Martin Laderman.
mem property management was founded in 1989 with a singular vision -- to increase property value through solid, experienced management. Through a series of strategic acquisitions and recruiting, many of the most experienced property management professionals, mem has become one of the fastest growing private companies in the country (#556 on the prestigious Inc. 5000), while retaining the personalized touch and customized, hands-on approach that has contributed to its success serving multi-family properties in New Jersey. In 2013, mem property management joined the Better Business Bureau (BBB) as an Accredited Business, achieving an A+ rating.
mem property management's services include vendor management and contractor supervision; building inspections and maintenance needs analysis; financial accounting and association budget preparation and review; and the day to day management and oversight of dozens of properties from New Jersey's Gold Coast to the Jersey shore while responding to inquiries from board members, residents and outside advisers.
"We are leveraging technology to make life simpler and easier for our residents. By embracing social media we reinforce our company's position as the leader in New Jersey property management," says Laderman.
About mem property management
mem property management is a privately held New Jersey property management company privileged to serve some of the finest communities throughout New Jersey including many of the major developers and builders as well as communities as diverse as small ocean-front condominiums to large master-planned communities with several hundred homes to age-restricted retirement communities.
To learn more about mem property management, please visit their website at http://www.memproperty.com/ or call 732-296-6660.