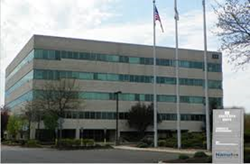 The investment in expanded Class A office space in Somerset demonstrates our continued commitment to providing our valued customers in central New Jersey with outstanding customer service and support
Somerset, New Jersey (PRWEB) November 09, 2015
mem property management, a top-rated property management company in New Jersey, is proud to announce the expansion of its offices in Central New Jersey with the significant increase of Class A office space at Somerset Executive Square located at 3 Executive Drive in Somerset, New Jersey.
Exceptional growth over the past several years has caused mem property management to grow beyond its current location to require a larger space for its experienced property management team. "As of December 1, our accounting department and central New Jersey property management team will be fully operational at the new location and connected to our Galloway regional office and Jersey City headquarters with a state of the art Voice over IP system," says founder and CEO Martin Laderman, "in addition, we are very excited to announce that vice president Matthew Laderman will be relocating to the new Somerset offices to provide additional management support."
mem property management was founded in 1989 with a singular vision -- to increase property value through solid, experienced management. Through a series of strategic acquisitions and attracting many of the most experienced property management professionals in the region, mem has become one of the fastest growing private companies in the country (#556 on the prestigious Inc. 5000), while retaining the personalized touch and customized, hands-on approach that has contributed to its success serving multi-family properties in New Jersey.
In 2013, mem property management was invited to join the Better Business Bureau (BBB) as an Accredited Business, and has maintained an A+ rating for its proven record of trustworthiness, ethics and commitment to outstanding client service. The expanded offices in Somerset will allow mem property management to better service its growing portfolio of homeowners associations, high rise communities, condominium associations, townhomes and active adult communities.
"The investment in expanded Class A office space in Somerset demonstrates our continued commitment to providing our valued customers in central New Jersey with outstanding customer service and support," says Laderman.
About mem property management company
mem property management company is a privately held New Jersey property management company founded by Martin Laderman with the vision to increase property value through solid, experienced management. Since that time the company has expanded to manage dozens of properties from its New York border to the Jersey Shore and Gold Coast.
mem property management services many of the finest communities throughout New Jersey including many of the major developers and builders as well as communities as diverse as small ocean-front condominiums to large master-planned communities with several hundred homes to age-restricted retirement communities.
To learn more about mem property management news, services or its policies, please visit http://www.memproperty.com or call (201) 798-1080.