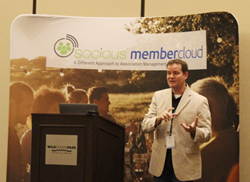 We set out to give association executives hours back in their day, so they could focus more on strategic initiatives and delivering more value to members.
Mesa, AZ (PRWEB) May 31, 2016
The room of Socious customers erupted in applause as company leaders unveiled a series of surprise announcements last week at their annual customer conference outside of Phoenix.
At the height of the executive keynote by Paul Schneider and Scott Balthazor, Socious's CEO and Chief Customer Officer, the duo revealed MemberCloud, a new approach to membership management for forward-thinking association and user group leaders. MemberCloud is the world's first association management system built on a community platform, with a focus on member-facing tools and engagement opportunities.
"Our customers place a strong emphasis on providing clear value for members with exclusive content, networking tools, and engagement opportunities," said Joshua Paul, Vice President of Marketing and Strategy at Socious. "MemberCloud gives associations and user groups more ways for members to engage than any one platform in the market today, while still providing all the membership tracking, dues collection, and reporting capabilities that mid-sized and large associations need."
Building on this members-first approach, Socious executives introduced four new cornerstones of functionality inside MemberCloud's membership management platform and online community software editions.
Segments
A whole new way for member-based organizations to analyze and take action on their data. Segments allow associations to create groups of members by membership data, transaction history, and online activity. Organizations can then provide those members with a personalized experience and view reports based on those member segments.
Engagement Levels
Is engagement increasing? Engagement levels define and score member activities based on importance to the organization. These charts and reports help gauge if engagement is increasing or decreasing and its impact on organizations.
Dashboards
Tracking engagement activity over time. Built-in engagement dashboards are filterable and contain both graphs and tabular data for a rapid analysis of trends and performance.
Member Metrics
Get a snapshot of each member's participation. Enhanced member metrics offer association executives easily viewable insights into important activity counts and include engagement levels, posts, downloads, and financial data.
Targeted email enhancements will also be rolled out over the next few months, including full support for targeting by segment, more scheduling options, email analytics, and deliverability tracking.
Along with MemberCloud and its expanded functionality, Socious announced their new suite of professional services, which are designed to make life easier for association executives and their staff.
Organizations can now take advantage of Socious's managed AMS, community strategy and management, event management, sponsorship sales, and design and technical services. All services are provided by industry experts and revolve around organizations' unique needs.
"We set out to give association executives hours back in their day, so they could focus more on strategic initiatives and delivering more value to members. We also wanted to reduce headaches like training new employees on different systems," Joshua Paul said.
Socious's MemberCloud platform and the full selection of professional services are available now and announced enhancements will roll out during the coming months. For detailed information on Socious's MemberCloud, professional services, and other product announcements, visit Socious.com.
About Socious
Founded in 2002, Socious (socious.com) offers software and services to help associations and user communities take a members-first approach to growing and engaging their membership. Socious's MemberCloud platform manages over 1.5 million members for many of the world's top associations and companies.
Socious's cloud-based association management and community software includes membership management, private social networking, customer communication tools, discussion forums, and collaboration tools to help organizations increase sales, retention, and member engagement.
Socious provides a full range of professional services to help organizations manage their membership, grow their community, and plan events.
###