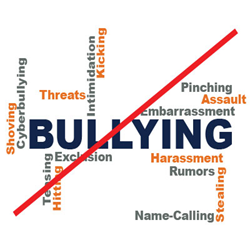 We are proud to be part of an industry that can make a positive change and want to show our support.
Hatboro, Pennsylvania (PRWEB) October 03, 2014
October is National Bullying Prevention Month — a month-long, nationwide campaign to increase awareness, education and prevention of bullying through events, activities and community outreach.
To show its support, Member Solutions will feature anti-bullying resources on its blog and participate in bullying prevention activities throughout October.
"We serve many Martial Arts schools that include bullying prevention as part of their curriculum," said Steven Pinado, CEO of Member Solutions. "This curriculum helps families recognize bullying behaviors and take a stand against it. We are proud to be part of an industry that can make a positive change and want to show our support."
During the month of October, Member Solutions blog contributors will post bullying prevention curriculum recommendations, along with tips and resources to take an active role in the bullying prevention movement.
National Bullying Prevention Month was founded by PACER's National Bullying Prevention Center in October 2006. Today the campaign is recognized in schools, organizations and communities throughout the United States. The month-long campaign is also supported by the National Education Association, American Federation of Teachers and National PTA in partnership with PACER.
To support the movement, PACER has developed an extensive library of anti-bullying resources for elementary, middle and high school students, as well as schools, parents and educators.
For additional information on National Bullying Prevention Month and PACER's National Bullying Prevention Center, visit PACER's National Bullying Prevention Center website.
About Member Solutions
Member Solutions has built its business on an unwavering commitment to serving clients in the Martial Arts and other Fitness market segments. The company operates a proprietary payment processing platform, and is the leading provider of billing, servicing and business support to more than 3,000 membership businesses in the United States, Canada and Australia. The company also offers web-based applications for front-desk member management and online event registration that are fully integrated with its PCI-compliant payment processing platform. For more information, visit Member Solutions.