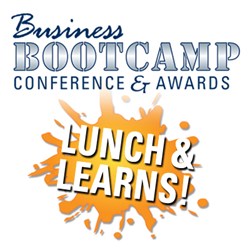 These Lunch and Learns are different. Each roundtable has just 10 spots to facilitate one-on-one interaction and deliver greater value to attendees.
(PRWEB) August 13, 2013
Member Solutions, the host of Business Bootcamp Conference & Awards, today announced the latest addition to the conference agenda: small group Lunch and Learns. This addition gives Business Bootcamp attendees guaranteed face time with a leading industry authority and the opportunity to receive individual business guidance. Business Bootcamp will be held on Saturday, October 5, 2013 in Philadelphia, Pennsylvania at the Hyatt Regency at Penn's Landing.
"We've been to Lunch and Learns where there is one presentation among a big crowd of attendees. You struggle to hear what the presenter is saying — and it's hard to really focus," said Joe Galea, Senior Vice President of Client Relations and Business Development for Member Solutions. "These Lunch and Learns are different. Each roundtable has just 10 spots to facilitate one-on-one interaction and deliver greater value to attendees."
Small group Lunch and Learns are included with event registration. In addition, Business Bootcamp attendees can choose to attend five expert-led educational panel discussions, where they will learn the latest and best practices for marketing their business, selling memberships and retaining existing members. Conference speakers include:

Dave Kovar, Kovar's Satori Academy of Martial Arts and Kovar Systems
Greg Tearney, Tearney's Martial Arts
Chris Robinson, Robinson's Karate Schools
John Bussard, Kicks Karate
Michael Parrella, iLoveKickboxing.com Fitness Franchise and FC Online Marketing
Tony Thompson, Ernie Reyes' West Coast Martial Arts Association
Bedros Keuilian, Fit Body Boot Camp
John Graden, Martial Arts Teachers Association (MATA)
Ken Marchtaler, The Marchtaler Group
Gustavo Larrea, Traditional Karate America
Greg Silva, United Professionals and Consulting by Choice
Tommy Lee, Step-by-Step Success and East Coast Martial Arts
Allie Alberigo, TakingIttotheNextLevel.com and Long Island Ninjutsu Centers
Barry Duncan, Momentum Fitness
Steve Giroux, Giroux Bros. Martial Arts
Chuck Heacock, The Fitness Compound
Andrew Kasmen, Esq., Burns & Kasmen
A bonus physical training track for instructors and trainers is also part of this year's event. Participants will have the opportunity to train alongside the Teacher of Teachers, Dave Kovar, 9-Time Welterweight Champion, Matt Hughes, 2012 Gold Medal Olympic Judo Coach, Jimmy Pedro, Kettlebell King, Phil Ross and Taekwondo gold medalist, Arlene Limas.
Business Bootcamp Conference & Awards is open to all Martial Arts school owners, Fitness business owners, program directors, trainers, instructors and staff. Also included with each ticket is continental breakfast, a catered luncheon, an extensive exhibit area and a two-hour evening cocktail and awards reception. Visit the conference website, MemberSolutions.com/Bootcamp2013, for the full conference agenda and to register.
About Member Solutions
Member Solutions, a division of Jonas Software, has built its business on an unwavering commitment to serving clients in the Martial Arts and related Fitness business categories. The company operates a proprietary payment processing platform and is the leading provider of billing, servicing and business support to more than 3,000 membership businesses in the United States, Canada and Australia. The company also offers web-based software for front-desk member management and online event registration that are fully integrated with its PCI-Compliant payment processing platform. Visit Member Solutions at http://www.membersolutions.com.