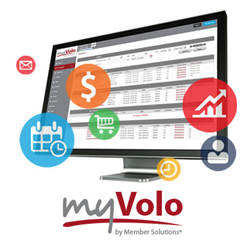 Delivering the best business solutions to Martial Arts and Fitness businesses has always been our number one priority.
Hatboro, Pennsylvania (PRWEB) June 25, 2015
Member Solutions, the leading provider of full-service membership billing, payment processing, member management software and advisory services for Martial Arts, Fitness and Health-related businesses, today announced the unveiling of its next-generation online member management software, myVolo.
This latest release comes with a new modernized interface, simplified navigation and a full set of integrated management utilities expected to accelerate efficiency and cash flow for Martial Arts and Fitness businesses.
With upgraded billing and payment options, and over 50 combined improvements to the user interface, navigation, and back-end code, this is the biggest release of myVolo since its initial launch in 2007.
"Delivering the best business solutions to Martial Arts and Fitness businesses has always been our number one priority," said Steven Pinado, CEO for Member Solutions. "That's why over the past year we invested heavily in software development, hired a team of talented engineers and developers, and formed specific focus groups to aid development. We want to ensure we're giving users the exact tools they need to run their businesses in the most efficient way."
myVolo online software is used by Personal Trainers, Martial Arts schools, independent Fitness studios and Boot Camp operators to simplify and automate everything operational within their businesses.
The software's comprehensive set of management utilities include lead tracking, automated communication to leads, online scheduling and appointment booking, flexible billing, invoicing and payment options, member check-in and attendance tracking, staff payroll automation, belt tracking for Martial Arts schools, marketing email and text messaging tools, an online member portal, a real-time performance dashboard, on-demand business reports, and security management integration for 24-hour automated door access for Fitness clubs.
Topping the list of enhancements is the software's extensive billing and payment options:

myVolo includes robust Point of Sale (POS) functionality enabling users to take credit cards, debit cards and cash at the front desk, in the online store and in the member portal website that is included with the software.
Software users now benefit from a partnership with Constellation Payments, a trusted, single-source merchant services and gateway provider for merchants throughout the U.S., Canada, Australia and New Zealand. Through the partnership, myVolo users receive aggressive merchant processing rates, industry-leading data security and an expanding set of integrated payment terminal options.
myVolo software comes with flexible membership billing options. Software users can choose to bill members on their own through integrated options for do-it-yourself credit and bank draft billing. Users also have the option of integrating their software with Member Solutions' Level One PCI-compliant billing and servicing platform. Doing so reduces the user's administrative workload tied to billing and invoicing, and increases their collections and revenue capture through Member Solutions' proprietary payment processing platform. The full-service billing solution includes Member Solutions in-house, U.S.-based customer care team. Each team member works as an extension of the user's business, professionally billing and collecting member payments that fail or fall behind.
Development of myVolo software will continue at an aggressive pace. Within weeks, Member Solutions plans to unveil a new POS module to make the sales process quicker and easier. In the coming months, the company will enhance the end user experience further by revamping the administrative and set-up functions within the software.
For additional information on myVolo software, visit MemberSolutions.com/Software.
About Member Solutions
Since 1991, Member Solutions has built its business on an unwavering commitment to serving clients in the Martial Arts and other Fitness market segments. The company operates a proprietary payment processing platform, and is the leading provider of billing, servicing and business support to more than 3,000 membership businesses in the United States, Canada and Australia. The company also offers myVolo web-based software for front-desk member management and Event Manager online registration software. Both software solutions are fully integrated with the company's Level One PCI-compliant payment processing platform. For more information, visit MemberSolutions.com.