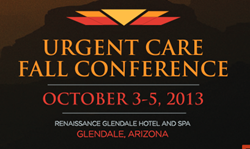 Scottsdale, AZ (PRWEB) September 18, 2013
MeMD, Inc, a national online urgent care to exhibit at the Urgent Care Association of America (UCAOA) Fall Conference being held in Glendale, Arizona, October 3-5, 2013.
The highly anticipated fall conference event offers opportunities for vendors and attendees to network while providing unsurpassed access to education, engagement and empowerment. The UCAOA prides itself in having a conference that offers unmatched opportunities for an urgent care center to learn how to drive more revenue and become more profitable.
The UCAOA Fall Conference will be held at:
Renaissance Phoenix Glendale Hotel & Spa
Upper Lobby Level
9495 W Coyotes Blvd
Glendale, Arizona 85305
Thursday, October 3rd to Saturday, October 5th, 2013
MeMD will be in booth 608 and 609.
Founded in 2004, Urgent Care Association of America (UCAOA) is for all professionals working in the urgent care industry with nearly 6,400 members, from more than 2,615 clinics in the US, Australia, Bahrain, Canada, Hungary, Ireland, Israel, Mexico and New Zealand. UCAOA has both individual and practice members.
UCAOA focuses on the role of urgent care medicine as a healthcare destination and provides ongoing support through the education, advocacy, community awareness, benchmarking and promoting standards of excellence.
The UCAOA Fall Urgent Care Conference is an intense immersion program and exhibition for the urgent care industry. The event will feature one-day and two-day courses covering topics such as:
Clinical Masterclasses
This interactive program utilizes 100% urgent care cases, combining lecture and audience participation to replicate clinical challenges in urgent care. Test your knowledge and skills in real time, and take home clinical pearls to ensure improvement in your practice.
Urgent Care Marketing: the Essentials for Growing Your Business
A vibrant marketing program can be the key to your center's success but sometimes it gets lost in the day to day tasks. Take the time to learn about urgent care specific marketing strategies with the perspective of industry experts, successful owners and marketing experts. Gain a better understanding of how both your internal and external message affect the success of your center.
Comprehensive Clinic Startup
Starting an urgent care is not like opening a private practice. As a full-service medical facility and "retail" business, there are many considerations – contract negotiation, site selection, physical setup, equipment, and more. Learn how to do it right from experts and industry veterans.
Internal Marketing – Tools for Improving Patient Experience
Patients' perception of a center often determines whether or not they will recommend you to their friends and family. Investing the time to develop a strong patient experience program can pay off in referrals and increased patient volume.
Please visit the http://www.UCAOA.org for a full list of courses offered.
About MeMD
Headquartered in Scottsdale, Arizona, MeMD, Inc is revolutionizing the healthcare industry by offering access to affordable, convenient, on-demand and secure web-based health care. MeMD combines proven telemedicine technologies with business model innovations to improve access to medical providers, reduce healthcare costs, and make the experience of seeing a physician convenient, enjoyable, and affordable – the way it should be.
To inquire about Employer Based Telemedicine Solutions call (480) 339-5003 or visit MeMD.me
To have an online medical consultation please visit http://www.MeMD.me.
About Urgent Care Association of America (UCAOA)
UCAOA provides educational programs, the monthly Journal of Urgent Care Medicine (http://www.jucm.com), and a variety of different resources for starting a new urgent care center, providing clinical care in the urgent care setting, and running a successful urgent care practice. UCAOA established national criteria for urgent care centers, including a Certified Urgent Care Center designation. UCAOA also partners with The Joint Commission in their Accreditation programs for urgent care centers. UCAOA is headquartered in Warrenville, Illinois. Visit http://www.ucaoa.org to learn more.