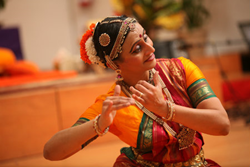 Wonderful program, highly recommended
San Francisco California (PRWEB) March 26, 2014
At this musical weekend, retreat guests will have the opportunity to be involved in the activities of a classical ashram: taking part in Satsang (silent meditation, chanting and lecture), yoga classes, healthy and delightful brunches and dinners, karma yoga, free time, nature walks, meditation, and of course, the awaited evening concert performances. There are no prerequisites for this musical retreat. For more information, please visit: http://www.yogafarm.org/course/1057.
it is recommended to the participants to bring slip-on shoes, loose comfortable clothing, writing materials, meditation shawl or blanket, yoga mat, a water bottle and flashlight.
Retreat guests are encouraged to enhance their experience to spend at least a few days at the Yoga Farm before the start of the course. This allows the participants to rest, re-energize and be nourished by the ashram environment body and mind to then bring their study feeling relaxed and refreshed.
Featured Artist for the Yoga of Sound and Voice Retreat: About Hasu Patel
A disciple of Sitar legend Ustad Vilayat Khan Saheb is one of the few distinguished female artists performing today classical music on Sitar, the most popular string instrument of India. As a performer, composer, and educator, she has dedicated her life to preserving and propagating in its pristine purity the fascinating, highly evolved classical music of Ancient India. After many years of rigorous training under her illustrious Gurus Prof. N.B. Kikani and Ustad Anwar Khan Saheb, she became the first woman to receive a music degree with a Gold Medal in the 75 years history of the Faculty of Fine Arts Baroda, India. She has received many awards, scholarships, and fellowships including at the age of 21, the first prize winner in the state of Gujarat for the stringed instrument competition held by All India Radio. http://www.hasupatel.com
About Silvia Nakkach: Silvia Nakkach, MA, MMT, named by Utne Reading magazine as one of 40 cutting-edge artists that will shake the art world in the new millennium. Silvia has cultivated a voice that transport the listeners into the heart of devotion, she is an award-winning composer, psychologist, author, and pioneer in the field of sound, transformation of consciousness, and music shamanism. She is the founding director of Vox Mundi School of the Voice, an international school devoted to teaching and preserving sacred music traditions, with centers and training in Bahia and Rio, Brazil, Argentina, Spain, and California. She is the creator, faculty, and main academic advisor for the Sound, Voice, Music Healing Certificate at the California Institute of Integral Studies, in San Francisco. She is also the founder of the The Path of Dhrupad Singing School in the States.
The Yoga Farm also hosts a Yoga Nidra course, courses on Yogic philosophy, Yoga for back pain and ayurvedic retreats, and an advanced teacher's training course (ATTC). The Advanced Yoga Teacher's Training Course helps graduates to deepen their spiritual practice and their study of Hatha yoga, Vedanta philosophy, Raja yoga, anatomy and Sanskrit. The advanced class gives students an additional chance to practice under guidance in a supportive atmosphere, which provides many with a boost of energy and clarity.
About Sivananda Ashram Yoga Farm
In 1971, Swami Vishnudevananda returned to California and founded the third ashram in the young Sivananda International organization: the Sivananda Ashram Yoga Farm on 40 acres of land located in the Gold Country of the beautiful Sierra Nevada Foothills in Northern California. The non-profit, non-sectarian ashram offers yoga classes, retreats and teacher training courses for students of all abilities. For more information, please visit http://www.sivanandayogafarm.org.