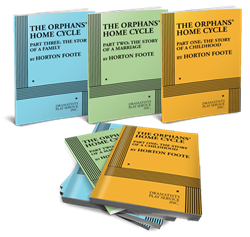 We are honored to add this new American classic to the growing collection of e-Scripts available for Scene Partner. - J. Kevin Smith, Owner, MyTheaterApps.com
Norwalk, CT (PRWEB) August 22, 2013
Eleven new e-Scripts™ from Dramatists Play Service, have been added to the growing library of titles available on the Scene Partner® WebStore for use in the Scene Partner App. Resulting from the worldwide e-Script agreement between Dramatists Play Service and MyTheaterApps.com, the new titles add to the growing list of outstanding plays currently available to actors and theaters for use in memorizing lines and mounting future theatrical productions.
Celebrated playwright and screenwriter Horton Foote was the winner of the 1995 Pulitzer Prize for Drama, the 1962 Academy Award for Adapted Screenplay and the 2000 National Medal of Arts. The Orphans' Home Cycle is widely considered to be his crowning masterpiece. The three-play drama follows the life of Horace Robedaux, a character based on Mr. Foote's father, from the beginning of the 20th century up until the start of the Great Depression. In 2010 the trilogy won the Lucille Lortel Award for Outstanding Play, the Drama Desk Special Award, the Outer Circle Critics Award for Outstanding New Off-Broadway Play and the New York Drama Critics Circle Award for Best Play.
"Foote's final gift to the stage is glorious, an essential American masterwork..." – BackStage
"...elevated and elemental, like Greek tragedy...the action exists in a kind of suspended reality - not bound by the laws of time and faintly ritualistic...temporal strangeness only heightens the complex pleasures of Foote's melancholy masterpiece." – New York Magazine
These new e-Script titles, and eight others, are now available on the Scene Partner WebStore for only $9.99 each.
About MyTheaterApps.com:
MyTheaterApps.com is the developer of Scene Partner, an award-winning App for the iPhone, iPad and iPod Touch that helps actors learn their lines using their own scripts or by choosing from a growing collection of Publisher e-Scripts—the authorized Acting Editions designed specifically for use with Scene Partner. MyTheaterApps.com has e-Script agreements with Samuel French Inc., Dramatists Play Service and Music Theatre International. Scene Partner merges text-to-speech software from the Acapela Group, voice recording and advanced algorithms to provide a unique and innovative tool for actors. It was chosen by BACKSTAGE as one of six essential technology tools for actors. At its launch Apple listed Scene Partner as "New and Noteworthy" on the home page of the App Store. Scene Partner has won multiple awards for design excellence and a 2011 Gold CQIA Innovation Prize.
Scene Partner has been featured in Variety, BACKSTAGE, Wall Street Journal Online, Stage Directions, Stage Magazine, SETC News and DRAMATICS Magazine.
Photos Available