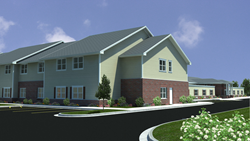 Bradley, Illinois (PRWEB) July 11, 2016
A groundbreaking ceremony will be held at 10:30 a.m. on Tuesday, July 12 for a $5 million expansion project at Heritage Woods of Huntley.
The community, which is located at 12450 Regency Parkway, serves seniors who need some help to maintain their independence. The expansion includes 30 memory care apartments and nine assisted living apartments. The project will be finished next spring and will meet the growing housing demand of older adults in the northwest Chicago suburbs.
White Oaks at Heritage Woods of Huntley, the new memory care expansion at the community, will cater to older adults with Alzheimer's disease or related dementia. The program will provide opportunities for residents to maintain a sense of purpose and belonging throughout the seasons of dementia.
"We focus on abilities rather than limitations because we understand that as we age our heart's hopes and desires do not," said Rod Burkett, CEO of Gardant Management Company, which will continue to oversee day-to-day operations for the community.
The nearly 31,000 square-foot addition completes the master plan for the 4-acre site that opened in 2009. Each of the private apartments at the community will feature a spacious bathroom with shower and grab bars, individually-controlled heating and air conditioning units, and an emergency alert system.
In addition, White Oaks will have other community areas, including a dining room, atrium and salon.
Certified nursing assistants, working under the direction of a licensed nurse, will be on-duty 24 hours a day, seven days a week. The community will further expand Gardant's mission of providing residents with the love, compassion and dignity they deserve in addition to the help with medications and personal assistance they need.
David Schoning Design is the architect for the expansion project, and construction will be completed by M.R. Construction.
When fully occupied, the Heritage Woods of Huntley campus will provide 50 full-time jobs. Annual payroll with benefits is projected to be $2.3 million.
Heritage Woods of Huntley is one of more than 40 communities operated by Gardant Management Solutions, including neighboring Deer Path of Huntley, which serves adults ages 22 to 64 with physical disabilities, and White Oaks at Spring Street and White Oaks at Heritage Woods of South Elgin, two other memory care communities. Gardant is the largest assisted living provider in Illinois and the 14th largest provider in the nation.
Individuals who would like to have their names added to the interest list to obtain further information about White Oaks at Heritage Woods of Huntley can call 1-877-882-1495 toll-free.