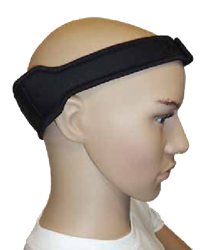 New Dr. Allen's Device for Treatment of Head and Brain can help to stop the progress of the memory loss and even improve it.
London, GB (PRWEB) May 05, 2014
Fine Treatment recommends new Dr. Allen's Device for Treatment of Head and Brain for aging people when they start experiencing occasional lapses in memory to terminate physiological changes that can cause glitches in brain functions. Different methods are suggested to keep memory in good shape; for instance, the laughing technique which is based on the research that the stress hormone cortisol damages certain neurons in the brain and can negatively affect memory and learning ability in the elderly, Fine Treatment reveals.
New Dr. Allen's therapeutic device is the first natural application that is able to enhance blood circulation in the brain without side effects as the energy produced by the thermo-elements does not exceed normal body temperature. People, while wearing the device on the head, like bandana, do not recognize that they undergo serious treatment. Improved blood circulation in the brain supports its function. Other techniques can be helpful but for a short period of time as they don't have influence on blood circulation in the affected area.
According to the article, Laughing puts the brain into a 'true meditative state' and can improve your memory, in the Daily-Mail, dated April 28, 2014, 'Humor reduces detrimental stress hormones like cortisol that decrease memory hippocampal neurons, lowers your blood pressure, and increases blood flow and your mood state.' Dr. Lee Berk, who also worked on the study said: 'It's simple; the less stress you have the better your memory.'
Another article 'Want to improve your memory? Sleep for exactly seven hours,' posted in the Health Site, May 3, 2014, says 'Seven' seems to be a magical number when it comes to optimal sleep, according to new research that looked at the connection between sleeping habits and age-related memory loss. In what's described as the first study of its kind, researchers at the Brigham and Women's Hospital in Massachusetts found that extreme sleep duration — either too much or too little — in middle-aged women led to worse memory later in life.'
"Laughing and sleeping optimize general condition of the body but cannot stop the progress of the memory and other cognitive abilities loss, as these techniques cannot influence on the development of cerebral arteriosclerosis locally," says Dr. Simon Allen. "New Dr. Allen's Device for Treatment of Head and Brain can help to stop the progress of the memory loss and even improve it."
For details, please visit Fine Treatment at http://finetreatment.com/brain-and-head-treatment/.
About Dr. Simon Allen and Fine Treatment:
Dr. Simon Allen, MD, PhD, Academician, member of ATA, is a highly experienced medical professional. His specialty is in the internal medicine. He has treated a wide range of chronic diseases, including patients after a heart attack, with kidneys problems, including kidney stones disease, prostate and spine conditions, as well as metabolic disorders. Fine Treatment exclusively offers Dr. Allen's devices for chronic prostatitis (CP/CPPS) and BPH treatment, coronary heart disease, dissolving kidney stones, as well as headache, back pain and sciatica relief.