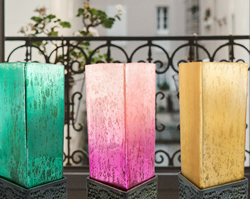 People want to give something unique to bereaved friends and family - Memory Lamps are a growing trend.
Saint Paul, Minnesota (PRWEB) November 22, 2016
OneWorld Memorials, the innovative online cremation urn and memorials retailer, has taken a step into the world of brick and mortar retail sales with its line of Memory Lamps.
What are Memory Lamps? Memory Lamps are decorative table lamps that are becoming an alternative to traditional sympathy gifts, such as flowers and food baskets.
The offering of a small Tiffany, Mission, or modern style table lamp to the bereaved began popping up at memorial services and in homes around Northwest Massachusetts. Over time, the lamps have become a popular tribute for those who want to memorialize or honor a deceased loved one. This new custom moved across the States as word spread about the effect they have on both the giver and recipient.The lamps are similar to a sacred candle, making it a lasting gift and beautiful keepsake.
OneWorld Memorials caught on to this trend in 2015 and decided it was the perfect addition to their line of sympathy gifts. The concept caught their web-visitors' attention and sales blossomed.
"What we've have been finding is that people want to offer something unique to bereaved friends and family. The idea of a Memory Lamp lights people up – no pun intended. People love giving and receiving them as gifts, as evidenced by the strong sales and customer feedback," says Ira Woods, president of OneWorld Memorials.
According to one customer who bought a pink,Tiffany style Memory Lamp for herself, "I truly love the feeling I get when I turn on the lamp- it's warm and serene. When I'm missing my mom,it feels like she's with me again, getting me through a rough moment."
Based on their on-line success in this category, and with the holiday season approaching, OneWorld Memorials has opened a new avenue for customers by building a kiosk in one of the largest retail spaces in the country:The Mall of America (MOA). For the first time, Memory Lamps are available as gift items at the MOA, with over 100 models, priced between $20 and $30.
The Memory Lamp cart can be found on the first floor of the Mall of America just outside of the Twin City Grill.
About OneWorld Memorials:
OneWorld Memorials provides quality memorial urns and related products, along with free shipping. OneWorld Memorials offers cremation jewelry, biodegradable urns, condolence gifts, and more. Visit OneWorld Memorials at: http://www.oneworldmemorials.com.