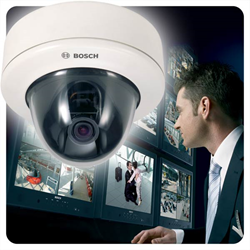 The Bosch Video Management System is a unique enterprise IP video security solution
Memphis, TN (PRWEB) April 30, 2014
Electronic Security Specialists will provide installation, training and support for the Bosch Video Management System (BVMS). This Enterprise Video System allows a very flexible system design supporting multi-site requirements for Metro, Airport and other large industrial facilities. Consisting of individually configured servers and combined monitoring in Operator Client, it supports up to 10,000 cameras.
The Bosch Video Management System is a unique enterprise IP video security solution that provides seamless management of digital video, audio, and data across any IP network. Functions include user interface, scheduling, events, alarm handling, user management, system monitoring, and customization.
Electronic Security Specialists installers receive training to install and configure the Bosch Video Management System at the Bosch Training facility in Atlanta. This course includes product demonstrations, in depth configurations, hardware installation, software overview, and troubleshooting. Training is completed over a 4-days period.
Electronic Security Specialists has been in business in Memphis for more than 25 years. They are a licensed low voltage contractor in Tennessee and Mississippi and also licensed with Tennessee and Arkansas to install and service electronic security equipment. With roughly 20 employees, Electronic Security Specialists installs alarms, access control systems, fire alarms, and performs video integration. Clients range from residential to commercial sites, including large medical campuses, office buildings, warehouses, lodging establishments, educational facilities, retail stores and other types of facilities.
For more information contact Electronic Security Specialists on the web at http://www.electronicsecurityspecialists.com or call (901) 366-4505