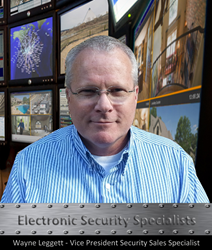 The magic question right now is, 'Is there an app on my iPhone where I can control my alarm or look in on my video system?' and the answer is, 'Yes!
(PRWEB) December 20, 2013
Memphis, TN: ESS, which formed in 1987, is a licensed low-voltage contractor in Tennessee and Mississippi, and the company is also licensed in Tennessee and Arkansas to install and service electronic security equipment, alarm monitoring, CCTV systems, UL Certificate fire systems, and access control systems.
Wayne Leggett brings more than 20 years of experience working for a large financial institution, where he designed, implemented and managed security that included alarms, video and access control.
"In Memphis and the Mid-South, the security industry is thriving. There is a definite need for it," said Leggett, who is an ASIS-certified physical security professional. "My joining ESS was a natural fit."
Now with roughly 20 employees, ESS installs alarms, access controls and fire alarms, and performs video integration. Clients range from residential to commercial sites, including large medical campuses, office buildings, warehouses, lodging establishments, educational facilities, retail stores and other types of facilities.
A partial list of its growing client base includes Allenberg Cotton; BancorpSouth Bank; Coca Cola Refreshment USA; CVS Pharmacy; First South Credit Union; First Security Bank Batesville, Miss.; Methodist Healthcare University; Methodist Hospital North, South, and Germantown; Memphis Convention and Visitors Bureau; and the University of Mississippi.
A hot trend this year is remote monitoring and control of various systems from mobile devices such as iPhones and iPads.
"The magic question right now is, 'Is there an app on my iPhone where I can control my alarm or look in on my video system?' and the answer is, 'Yes!'" Leggett said.
ESS is a dealer of Sielox access control equipment and Bosch security equipment.
"We primarily use Bosch because of the quality of their equipment and their warranty," Leggett said.
The Bosch Access Easy Control system features a graphical user interface, video integration, intrusion monitoring, remote access, report generation, alarm notification, multiple access modes and advanced I/O (input/output) programming.
Leggett also cites recent growth in ESS' MedixSafe division, which provides secure systems using Biometric fingerprint scans and proximity cards for managing Schedule II drug inventories in ambulances, firehouses and hospitals. "It creates an audit trail for medical professionals," Leggett said. "We've found a niche market, and we are pursuing it. We're rolling it out to firehouses and ambulance services all across the country and into Canada."
ESS got into the business after Ted Kets, fire commissioner in Jericho, N.Y., contacted the company about building a narcotics cabinet that would require dual identification. Since MedixSafe's inception in 2009, ESS has developed a complete line of narcotics cabinets and is selling them nationwide to fire stations, ambulance companies, doctors, drug companies and veterinarians.
ESS has also grown through mergers and acquisitions during the past few years. In October 2009, the company purchased the BancorpSouth division of electronic security integrator Total Integration Professionals LLC, along with its contract to service and maintain all of the CCTV and other electronic equipment with BancorpSouth throughout most of the South.
ESS now oversees all of BancorpSouth's CCTV equipment and any many other electronic security devices for all BancorpSouth banks, which are scattered throughout the Southeastern U.S.
For more information contact Wayne Leggit - wleggett(at)essccorp(dot)com.