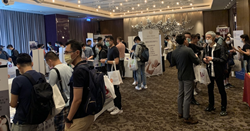 "At this stage we feel it is time to find a conference model that will allow us to go back to full operation while meeting the challenges of the new public health reality we face for many months to come."
NEW YORK (PRWEB) July 28, 2021
The nonprofit organization Men Having Babies is joining a growing number of local governments, healthcare organizations and businesses across the United States in establishing vaccination-only policies for its conferences. This announcement comes as it is gearing up to meet pent-up demand for the comprehensive peer guidance and expert advice the in-person MHB conferences provide.
Each year, MHB travels to a number of cities across the U.S. and internationally to share a wealth of knowledge with gay men aspiring to have a child. These events allow intended parents to spend a weekend receiving peer guidance and expert advice, and to be inspired by hearing from surrogates, fathers, and children born with the help of IVF and surrogacy. They meet reputable surrogacy providers and learn about financial assistance and other resources MHB can offer.
"Our goal is to ensure the health and safety of all participants, while allowing optimal engagement and the immersive experience our conferences are known for," said Ron Poole-Dayan, MHB's Executive Director. "In the first 18 months of the pandemic we used specialized virtual conference technology to offer guidance to the best of our abilities. At this stage we feel it is time to find a model that will allow us to go back to full operation while meeting the challenges of the new public health reality we face for many months to come. We devised our COVID-19 policy in consultation with experts, providers, and community partners, and the venues we've contracted for our 2021 - 2022 conferences are all following rigorous COVID-19 cleaning and capacity protocols."
In October 2020, at the hight of the pandemic, MHB held an in-person conference in Taipei for over 200 intended parents, incorporating more than 50 surrogacy and IVF experts from around the world who spoke and exhibited remotely through the innovative use of technology. MHB will build on this experience and safety protocols to move to complete in-person conferences.
Several dozen attendees from more than 10 states and abroad have already registered for the September 17-19 conference in NYC, which is the first in-person conference MHB is offering this fall. MHB will provide participants a link to upload documentation of their vaccination status in advance of the event to streamline the check in process.
MHB's Public Health Policy establishes first that all of its in-person events will comply with local, national, and venue-specific public health guidelines. In addition, the policy determines that all participants, including staff, speakers and exhibitors, will need to be fully vaccinated, unless there is a compelling medical or religious exemption. Those who are exempt from vaccination will need to submit proof of a negative PCR COVID-19 test taken no more than 72 hours prior to the start of the event. For further assurance to attendees, MHB has made arrangements in its September NY conference for exhibitors and staff to be tested on-site.
"It is not our intent to allow participation from any individual who chooses not to be vaccinated out of personal preference, despite the compelling science showing that vaccination is the most effective way to reduce infection and virus spread, but only those who have a legitimate religious or medical exemption," said Sara Miller, a one-time surrogate and MHB's Director of Business Development. "We understand the strong desire of so many prospective gay fathers to begin their parenting journey without further delay, but this decision was made in order to keep all conference participants as healthy and safe as possible. We will continue to monitor the ever changing public health landscape, and pivot and adjust as needed."